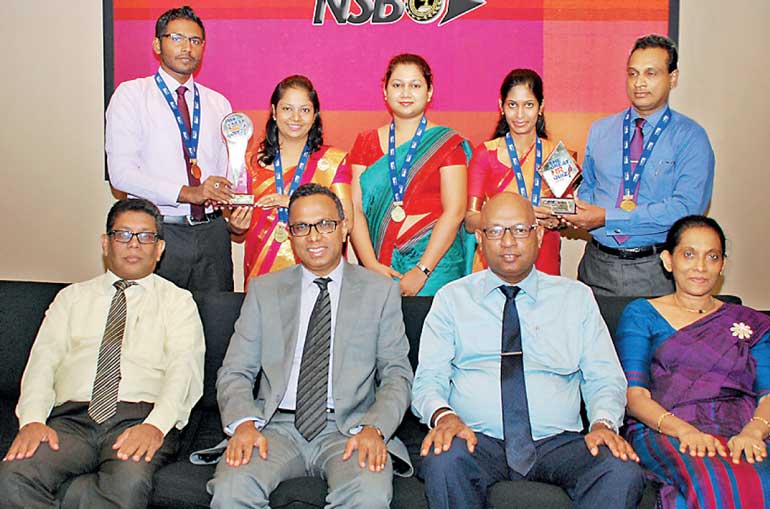 The NSB HR Quiz team with Chairman Aswin De Silva (seated second from left) with NSB GM/CEO S.D.N. Perera, NSB Senior DGM Jagath Gamanayake and NSB AGM (HRD) M.Y. Gunasekera
National Savings Bank emerged victorious at the Great HR Quiz 2015 dubbed as 'The Clash of HR Mega Minds' being the winner in both the Banking Sector Category and the Overall Category. Organised by The Institute of Personal Management (IPM) the competition was held at Hotel Galadari, Colombo on 13 November.

45 teams representing both private and public sector institutions including Sri Lanka Insurance, DCSL, Dialog, Mobitel, MAS Bodyline, AMW, Pan Asia, Unilever, People's Bank, Bank of Ceylon and Sampath Bank, have taken part in the quiz.

The competition was conducted under five rounds and the participating teams were tested for their knowledge on the following broad areas.

Round 1 – Human Resource Management (Evolution of HRM, Employee Resourcing, Performance Management, Learning and Development and Rewards Management)

Round 2 – Human Resource Management (Employee Relations, Industrial Relations, Health, Safety and Welfare and HR Audit)

Round 3 – Organisational Behaviour (Individual Behaviour, Values, Personality, Perceptions, Emotion, Attitudes, Work Related Stress, Motivation, Team Dynamics, etc.)

Round 4 – Current Affairs and Sports (Athletics, Cricket, Soccer, Tennis, Basket Ball, Boxing and Golf)

Round 5 – Contemporary HRM (HR Integration with Business, Global HRM, Workforce Diversity, Ethics in HRM, etc)

The members of the team who have represented National Savings Bank are Saminda Weerasena (Training Manager of the bank), Hasini Gunawardena, (HRD Division), Harshi Chaturangi (HRD Division), Thilanka Mudalige (HRD Division) and Bhagya Panangala (Risk Management Division). At the closure of the five rounds the wining HR Team of NSB received the awards from Deputy Minister of Foreign Affairs Dr. Harsha de Silva.

The management and all staff members of the bank extend their heartiest congratulations to the NSB team.