NDB opened its latest branch in Kochchikade in a bid to support the economic and livelihood development in the area. With this opening, the NDB branch network has now grown to 89, signalling a steady continuation of the bank's expansion strategy.

Kochchikade, situated in close proximity to the blossoming tourist city of Negombo has a rapidly developing economy; with a thriving fishing community. Its location along the western coast line of the country has made fishing the most bountiful and apposite industry for the people of Kochchikade. Its position along the busy main road that runs across Colombo, Negombo, and Chilaw influences the rapid development in industrial and trade activity within the region. The growing economy of Kochchikade is becoming a key contributor to the national economy and promises great prospects for its people.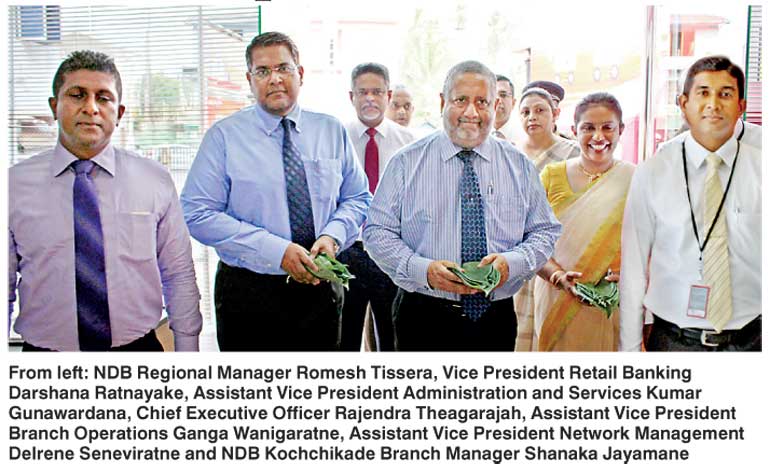 NDB opened its doors to the aspiring individuals of Kochchikade, in a bid to support and encourage such entrepreneurial growth efforts of its people. With NDB's expertise and knowledge in SME financing, the bank offers many solutions; including short term working capital loans, supplier and distributor finance and industry specific long term funding which will be beneficial to the growers, small and micro industrialists, traders and distributors in the area.

NDB Kochchikade branch also offers a host of Retail Banking services, such as Current and Savings Accounts, Children's Savings Accounts, NRFC/RFC Accounts, Fixed Deposits, Housing Loans, Education Loans, Leasing facilities, Credit and Debit Cards, as well as Western Union Money transfer services coupled with the convenience of Internet Banking and a Call Centre that operates 24 hours; so that customers in and around the region would have access to a wide array of banking solutions that help them meet their unique financial needs.

The branch located at No. 96, Chilaw Road, Kochchikade will be open from Monday to Friday from 9 a.m. to 4 p.m. and Sundays from 9 a.m. to 1 p.m. (excluding public and bank holidays).

NDB remains dedicated to bringing its customers one step closer to accomplishing their life long ambitions through the range of services that are accessible through its growing branch network. Further details on NDB's many products and services can be obtained from its 24 hour Call Centre, by dialling 011 244 8888 or by visiting NDB's corporate website via www.ndbbank.com.