Popular corporate trainer Sandun Fernando selected as 2nd challenge winner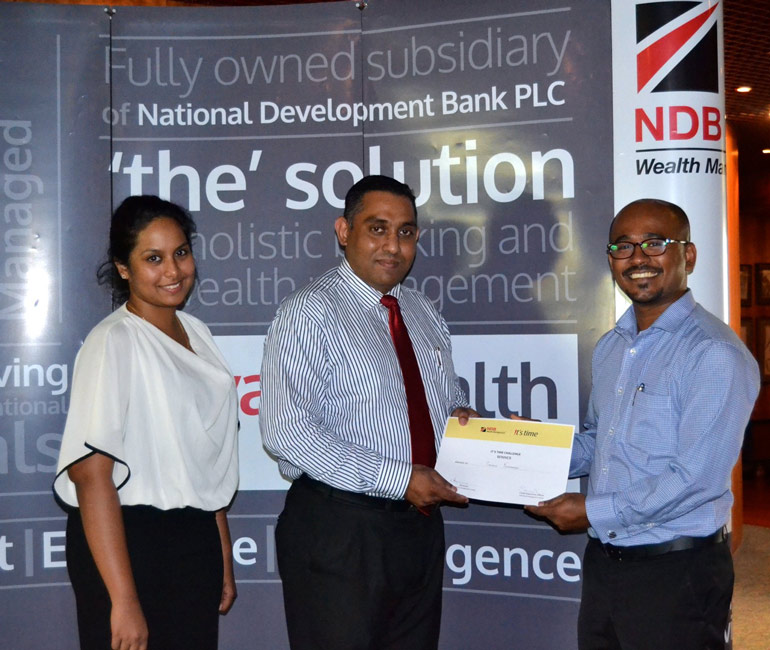 Sandun Fernando (right), the second of a total of five winners to be selected as part of the inaugural NDB Wealth 'It's Time' Challenge, receiving his Rs. 50,000 NDB Wealth account from NDB Wealth Chief Operating Officer Ruwan Perera (centre) and NDB Wealth Relationship Manager Thrishana Pothupitiya
NDB Wealth has extended its innovative online initiative, the 'It's Time' Challenge, by two weeks, facilitating the selection of two additional exemplary individuals who will benefit from this unique opportunity. This two-week extension has been put in place to meet a greater response to this challenge than initially anticipated.

Now offering a total of five investments, of Rs. 50,000 NDB Wealth accounts, the NDB Wealth It's Time Challenge will continue to offer participants, for two more weeks, the catalyst that they need to kick start their potential.

At the same time, NDB Wealth also selected up-and-coming corporate trainer Sandun Fernando as the challenge's second winner, recently having awarded him a NDB Wealth account valued at Rs. 50,000 for use towards his plans for potential social transformation. A team of expert NDB Wealth financial planners singled Fernando out for his passion in utilising his corporate training and motivational speaking talents to help those less fortunate, via various not-for-profit undertakings, which has allowed those that he has helped to take advantage of their potential, and advance in life.

Commenting on Fernando's passion to use his skills to help others, NDB Wealth CEO Prabodha Samarasekera said, "We at NDB Wealth have identified in Fernando the commitment, willingness to succeed and forward thinking that is essential for Sri Lanka's future. Not only that but his efforts to help those less fortunate than himself, by contributing his time and services to his community, make him doubly suitable as our newest NDB Wealth 'It's Time' Challenge ambassador, spurring on others to take the challenge and make a much-needed change in their lives."

As a precursor to the launch of an all-new range of unique and innovative NDB Wealth lifestyle plans, the It's Time Challenge offers participants the chance to earn an investment worth Rs. 50,000 weekly, for a total of five weeks. So, take advantage of this first-of-its-kind opportunity by visiting www.itstime.lk, and telling them about your dreams, goals and plans.