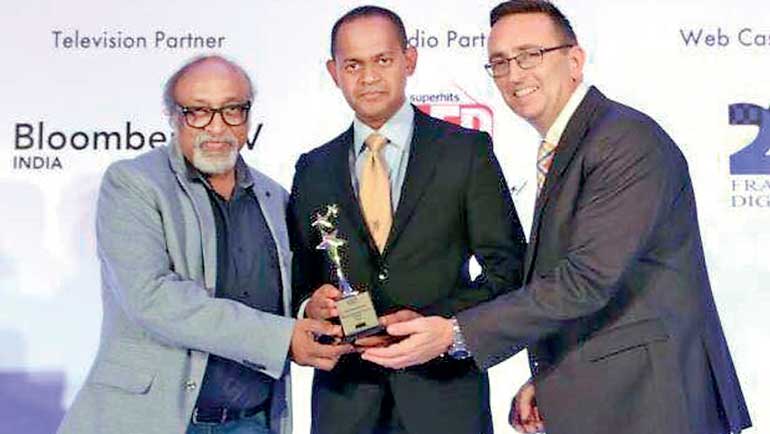 NDB Assistant Vice President Marketing Sanjaya Senarath receiving the award
National Development Bank PLC was felicitated for its recently introduced NDB Mobile App as the 'Most Admired Mobile App' at the recently held Asian Customer Engagement Forum (ACEF) Awards in Mumbai.

ACEF helps promote the best brands, organisation/agencies and individuals for their outstanding achievements in brand excellence. The award was accepted on behalf of the bank by its Assistant Vice President – Marketing Sanjaya Senarath.

Commenting on the receipt of this award, Senarath said: "We are honored and humbled to be recognised by CEF. The bank worked hard to introduce one of the most customer friendly mobile apps delivering convenience to the user. As a late entrant in this space we needed to create awareness to highlight the value and unique aspects of the app. Hence the shake and bank campaign that aimed to break the clutter and gain attention. While the marketing communication campaign is still ongoing with many stages to follow we are thrilled to be recognised at this forum."

NDB's mobile banking app is the bank's flagship IT-led initiative. Customers can bank with convenience; access their account to carry out various secured transactions from any mobile devices running iOS, Android or Windows. This comprehensive solution can be used on any mobile network.

This app introduced the 'Shake' element to make mobile banking fun and easy. With the Shake feature the user needs to 'Shake' the phone to view the latest offers. Once logged the user can 'Shake' the phone to view the available balance. Users could activate credit/ debit cards through the mobile or deactivate cards permanently. Through this app credit cards have guaranteed safety with the option of securing it via the card on/off option.

With this app users can reload any mobile number instantly and do any fund transfer to the NDB account or any other NDB accounts with the mobile number. For continuous payments, you can save the beneficiary details for greater convenience, set your own debit or transaction limits, pay bills or transfer money to any other bank or pay by credit card, lost card reporting and carry out many more banking activities.

The bank believes that this intense and strategic investment in IT will enable NDB to acquire greater market share and move to higher leagues.

NDB remains dedicated to guide its customers to success whilst being committed to support them accomplish their life long ambitions and uplift their standards of living through the range of services that is accessible through its growing branch network. Further details on NDB's many products can be obtained from its 24 hour Call Centre, by calling 011 2448888 or by visiting NDB Bank's website on www.ndbbank.com.