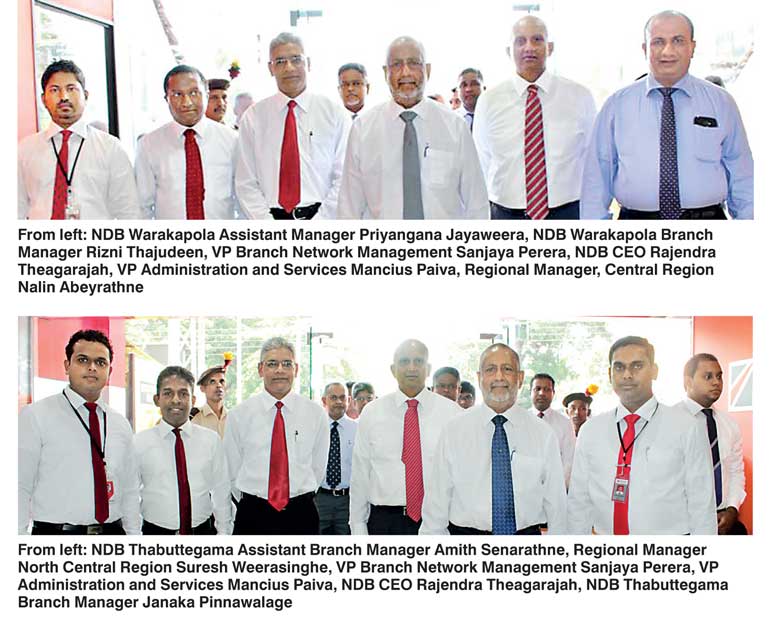 NDB further extended its footprint with the opening of its 101st branch in Warakapola and 102nd branch in Thabuttegama recently.

The bank's expansion strategy focuses on promoting financial inclusion by offering relevant, responsible financial services to aspiring communities and promising economic regions. Therefore, with the opening of the two new branches, residents and businessmen in these areas are expected to benefit from a wide range of financial and advisory services.

With its expertise and knowledge in SME financing, NDB will continue to offer a range of SME Banking solutions including short term working capital loans, supplier and distributor finance and long term funding which will be beneficial to the traders, distributors as well as professionals and proprietors in the two areas.

Further, NDB will also offer a gamut of Retail Banking products including Current/Savings accounts, Fixed Deposits, Housing Loans, Pawning services, Vehicle Leasing as well as Insurance Services to the residents of both regions to help them grow and secure their wealth while enjoying easy access and convenience of banking with automated facilities such as Visa Debit Cards, Internet Banking, Western Union Money Transfer Services and convenient banking through Mobile banking.

NDB's Warakapola Branch is located at No. 96 and 98, Main Street, Warakapola and the NDB Thabuttegama Branch is located in No 255A, Main Street, Thambuttegama and is open from 9 a.m. to 4 p.m. on weekdays.

NDB remains dedicated to bringing its customers one step closer to accomplishing their life long ambitions and uplifting their standards of living through the range of services that is accessible through its growing branch network. Further details on NDB's many products can be obtained from its 24 hour Call Centre, by calling 011 2 448 888 or by visiting NDB Bank's website on www.ndbbank.com.