NDB opened its latest branch in Tissamaharama with the intention of further strengthening its financial services to the residents in the Southern Province. With this opening, NDB branch network has now grown to 93.

Situated in the Hambantota District, Tissamaharama is enriched with a proud legacy and renowned for its beautiful landscape in the southern coast. The rich cultural heritage and the pristine splendour of Tiissamaharama have made it a popular tourist destination. Famous for the man-made tank (reservoir), Tissa Wewa provides fertility to its soil thus giving life to bountiful crops of vegetables and grains that nourish the nation and has created many entrepreneurial opportunities for the residents in the area.

The branch was declared open by NDB's Vice President Administration and Services – Mancius Paiva, along with the patronage of the senior management of the bank as well as valued customers from the area.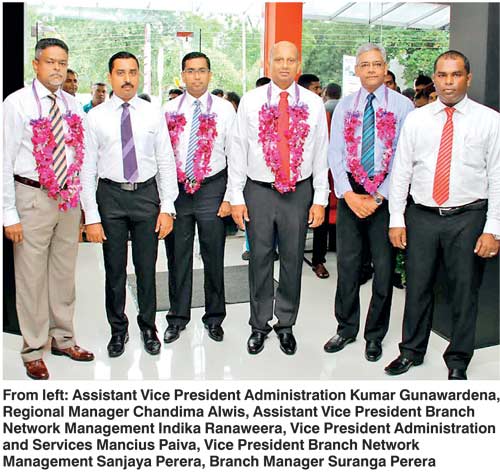 NDB will offer a gamut of Retail Banking products including Current/Savings accounts, Fixed Deposits, Housing Loans, Pawning services, Vehicle Leasing as well as Insurance Services to the residents of Tissamaharamato help them grow and secure their wealth while enjoying easy access and convenience of banking with automated facilities such as Visa Debit Cards, Internet Banking and Western Union Money Transfer Services.

NDB's Tissamaharama Branch is located at No. 133 E, New Town, Tissamaharama and will be open for business from Monday to Friday from 9 a.m. to 4 p.m.

NDB remains dedicated to bringing its customers one step closer to accomplishing their life-long ambitions and uplifting their standards of living through the range of services that is accessible through its growing branch network. Further details on NDB's many products can be obtained from its 24 hour Call Centre, by calling 011 2448888 or by visiting NDB Bank's website on www.ndbbank.com.