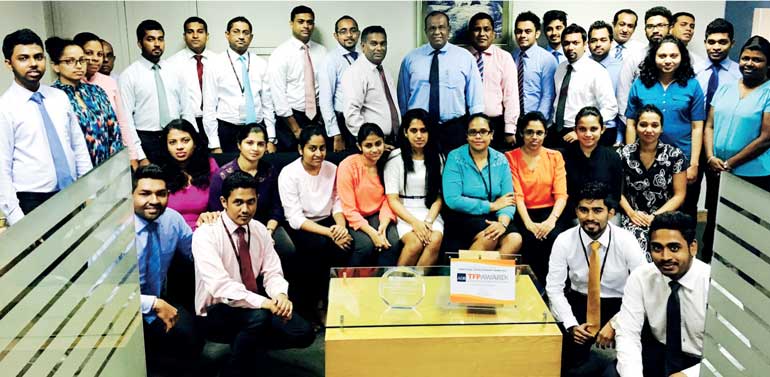 The Asian Development Bank (ADB) announced the winners of its second annual Trade Finance Program (TFP) Awards in Singapore. The awards recognised 15 leading partner banks for their role in supporting trade in the region.

This year's TFP Awards ceremony was held at the Global Trade Review's annual September conference – GTR Asia Trade and Treasury Week 2016 – which is one of the best attended trade finance conferences in Asia.

A total of 16 awards were presented to financial institutions, 15 awards went to financial institutions based in developing Asian countries. The awards recognise the TFP's most active partner banks as measured by the number of transactions conducted during 2015 through to mid-2016.

Commenting on this award NDB AVP Operations and Trade Services Rivindu Nanayakkara said, "We are extremely delighted and honoured to receive such international recognition today. Winning this award for the second consecutive year emphasises the Bank's significant feats in the Banking and Financial domains and is a key outcome of successfully promoting trade finance within Sri Lanka and the region." The TFP provides guarantees and loans to over 200 partner banks to support trade. Backed by ADB's AAA credit rating, the program works with over 200 partner banks to provide companies with the financial support they need to engage in import and export activities. Since 2009, the TFP has supported more than 8,200 small- and medium-sized enterprises across the region, with about 11,800 transactions valued at over $ 23.6 billion, in sectors ranging from commodities and capital goods, to medical supplies and consumer goods.

NDB remains dedicated to bringing its customers one step closer to accomplishing their life-long ambitions and uplifting their standards of living through the range of services that is accessible through its growing branch network. Further details on NDB's many products can be obtained from its 24 hour Call Centre, by calling 011 2 448 888 or by visiting NDB Bank's website on www.ndbbank.com.