Enhances customer experience with launch of two new products
Driving company success through true product excellence and pioneering customer service is the hallmark of Melsta Regal Finance Ltd. Building on its corporate philosophy of providing customers with a diverse range of sophisticated financial products, Melsta Regal marks yet another milestone on its four year journey with the launch of the Melsta Debit Card and Melsta Online, two new exciting service offerings.

Melsta Regal has launched these new suites of services understanding the need to enhance customer experience and convenience, complementing the busy lifestyles of its customers.

The company's new innovative solutions incorporate state of the art security enhancements available to all clientele at their fingertips, helping them meet all financial needs.
From left:

Melsta Regal Finance Director/CEO Nishaman Karunapala, Melsta Regal Finance Chairman Amitha Lal Gooneratne, Independent Non Executive Director Mahendra Galgamuwa


"Our primary goal is to provide the most innovative solutions to our customers with the aim of generating the best possible customer experience. We believe that it is important to anticipate our customers' needs and wants becoming a true differentiator in the market offering great flexibility and choice," said Melsta Regal Finance Ltd. Chairman Amitha Lal Gooneratne.

The Melsta Debit Card caters to the evolving needs of its customers who seek faster, secure, smarter and convenient ways to make payments. The Debit Card enables customers to withdraw money from over 3,000 ATMs of the VISA network locally and from over 1.9 million worldwide. Further, customers can now avoid the hassle and risk of carrying cash by making payments from over 20 million merchandisers having VISA POS machines, at zero charges.

Melsta Regal offers an attractive interest rate of 8% for savings accounts with no hidden fees with the sole motive of improving savings habits among Sri Lankans and facilitating the growth of the economy. Melsta Regal customers can set up a savings account with a minimum balance of just Rs. 1,000. Customers can make deposits to their Melsta account at any of Melsta Regal's branches and through an extensive network of designated bank branches island-wide.

Additionally, the Melsta Regal Debit Card meets customer expectations for more secure transactions. This chip-enabled card provides extra layers of security. Further, as customer wishes, their name can be embossed on the card as an additional safeguard.

The Melsta Debit Card is no doubt the smarter option for savings, POS and online payments and for cash withdrawals.

Embracing the rapid progression of technology, Melsta Regal now offers its customers the convenience of secure Online Financial Services, 'Melsta Online'.

For access to this new facility, customers can simply register online and enjoy the convenience of managing their accounts online. This facility allows customers to check account balances, make fund transfers and payments, and also apply for borrowing facilities in real-time via any device such as a computer, mobile phone or a tablet device.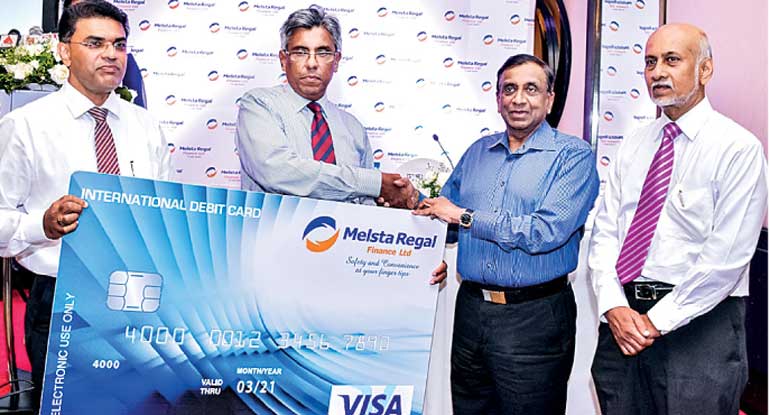 Signifying the launch of Melsta Regal Debit Card, Management of Melsta Regal Finance hands over a debit card to one of the first customers (from left): Melsta Regal Finance Director/CEO Nishaman Karunapala, Melsta Regal Finance Chairman Amitha Lal Gooneratne, Aitken Spence Deputy Chairman/CEO JMS Brito, Independent Non Executive Director Mahendra Galgamuwa