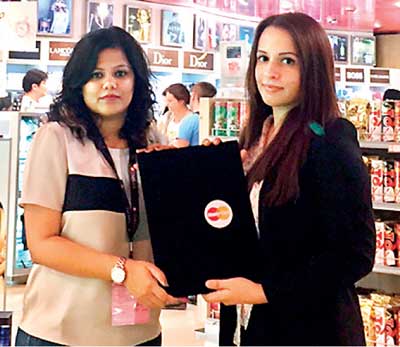 Continuing to provide cardholders with unparalleled benefits, MasterCard announced its partnership with duty free store operator Flemingo Duty Free in Sri Lanka.

MasterCard cardholders flying to Colombo are eligible for a 15% discount on non-promotional items and 5% discount on promotional items on spends of over $ 65 at the Flemingo Duty Free outlet in the arrival terminal at Bandaranaike International Airport. They are also eligible for these discounts when they spend over $75 at the departure terminal outlet when flying out of Colombo. These offers are open to all MasterCard credit, debit, prepaid and commercial cardholders till 31 August.

"Sri Lanka is witnessing a growth in the number of tourists travelling to the island and a rise in the number of locals travelling abroad. At MasterCard, we continuously look to offer travelers greater safety and convenience as they traverse the globe. Encouraged by the response to similar programs in Sri Lanka from locals and tourists alike, we are delighted to partner with Flemingo Duty Free. With significant savings on offer, we look forward to seeing cardholders indulge in products from several prestigious international brand," said R.B. Santosh Kumar, Country Manager, Sri Lanka and Maldives, MasterCard. "Working together with our merchant and issuer partners around the world, we also strive to offer a host of benefits and privileges that help create more memorable travel experiences."

Commenting on the partnership, P. K. Thimmayya, CEO, Flemingo Duty Free, Sri Lanka said, "We are excited to partner with MasterCard on this promotion. Offering great savings on our vast selection of products, this will give MasterCard cardholders further reason to enjoy our world class duty free experience that has been designed with their tastes in mind."

This latest partnership adds to MasterCard's commitment to providing cardholders greater convenience and privileges through product innovation and strategic partnerships. Leveraging its deep insights into global travelers and affluent cardholders as well as its extensive network of partners worldwide, MasterCard also works on promoting Sri Lanka as a premier tourist destination in identified markets.