Veteran Banker, Nimal Mamaduwa has decided to relinquish duties as the General Manager/CEO at HDFC Bank with effect from 31 December.

This is following completion of his contract period of three years with the Bank.

As the General Manager/CEO, Mamaduwa has successfully transformed HDFC Bank to a diversified commercially focused Bank which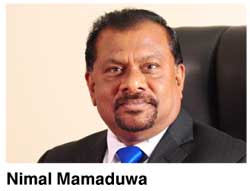 has shown a significant growth during his tenure, HDFC Bank said in a filing to the Colombo Stock Exchange.

Mamaduwa, a veteran Banker with a career that spans over 40 years in commercial and development banking, started his banking profession at HNB and held many senior positions in the areas of credit, development banking and operations at HNB.

He also served as the GM/CEO at Sanasa Development Bank prior to HDFC Bank. He holds 1,000 shares of HDFC Bank to date.