Life Insurance Corporation (Lanka) Ltd. (LIC Lanka), which is a joint venture between LIC India and the Bartleets Group Sri Lanka, recently announced the appointment of Madawa Gunaratna – a life insurance marketing specialist who has joined their senior management team as Deputy General Manager – Marketing, Sales and Distribution. Madawa who holds a MSc. (Strategic Marketing) and Certified Professional Marketer (Asia) amongst other professional qualifications and counts over two decades in management returns to LIC Lanka with a wealth of experience and knowledge.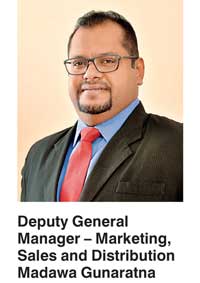 At LIC Lanka where many years ago he was the National Sales Manager, he earnestly looks forward to once again be a part of one the world's largest if not the largest Life Insurance companies. He plans on introducing new experiences garnered over the years of the local industry and together with the support of his team, take the business forward.

LIC Lanka offers a gamut of well-crafted life insurance solutions that gives life insurance access to a wider spectrum of people and is not simply restricted to the rich and affluent. In support of this, he also plans on rolling out a new communications campaign showcasing the LIC Lanka brand and the significant role it plays in offering a virtual 'life line' to all Sri Lankans.

An old Peterite, and a father of two young boys, he began his career as a young planter in the cooler climes of Sri Lanka in the mid nineties and moved to insurance thereafter. Madawa considers himself a dynamic, decisive, results-oriented, multi-disciplined professional with proven successes of more than two decades in his professional journey. He is also an avid wild life enthusiast and naturalist.

He has been trained locally and internationally in Management, Sales, Marketing and Distribution, and is a visiting lecturer in Management and Marketing. He is also a member of mentoring panel at the University of Moratuwa (Faculty of Civil Engineering). He carries with him many professional memberships such as a membership in the Institute of Management, a Member of the Institute of Training and Development and a long time member of the Sri Lanka Institute of Marketing. Currently he serves as the vice president of the Sri Lanka Institute of Training and Development.

Prior to joining LIC Lanka, he was the Senor Manager – partnerships at HNB Assurance PLC, where he headed the Bancassurance distribution channel, giving leadership to over 200 Bancassurance teams island wide. He was responsible for the Life insurance business development through HNB, whilst partnering with a few other local banks for DTAT business as well.