Reuters: Insurance market Lloyd's of London, an integral part of the British business scene since the 17th century, has chosen Brussels as the site for its European Union subsidiary because of its strong regulatory framework, it said on Thursday.

Lloyd's has been one of the most vocal financial services firms about the need for an EU subsidiary if Britain has no access to the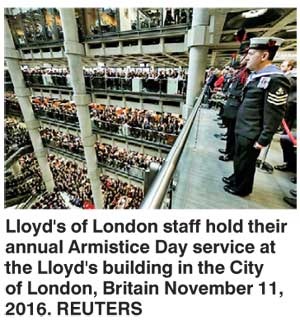 single market after leaving the bloc and is one of the first to announce such a move.

The decision comes only a day after British Prime Minister Theresa May triggered Article 50 of the EU's Lisbon Treaty, the start of a two-year countdown to Brexit. Lloyd's, which started life in Edward Lloyd's coffee house in 1688, is a market housing over 80 syndicates in a striking modern building in the City of London.

Its syndicates focus on specialist insurance and reinsurance in anything from offshore oil rigs to athletes' legs.

"We are a market, we are unique, we are not like an insurance company - we needed to find a regulator with the resources and the bandwidth to regulate the Lloyd's market," Chairman John Nelson told Reuters. Nelson said the Brussels subsidiary would employ dozens of staff - in areas such as compliance and information technology - unlike banks which have said they may move hundreds of staff to the EU. The regulated company will also have its own board.