Aggressive demand for long tenures sees yield curve flattening out further
By Wealth Trust Securities

The surplus liquidity in money markets was seen dipping to a one year low of Rs. 10.62 billion yesterday following the implementation of the new Statutory Reserve Requirement (SRR) of 7.50% with effect from 16 January. This intern saw call money and repo rates increase further to average 6.75% and 6.71% respectively.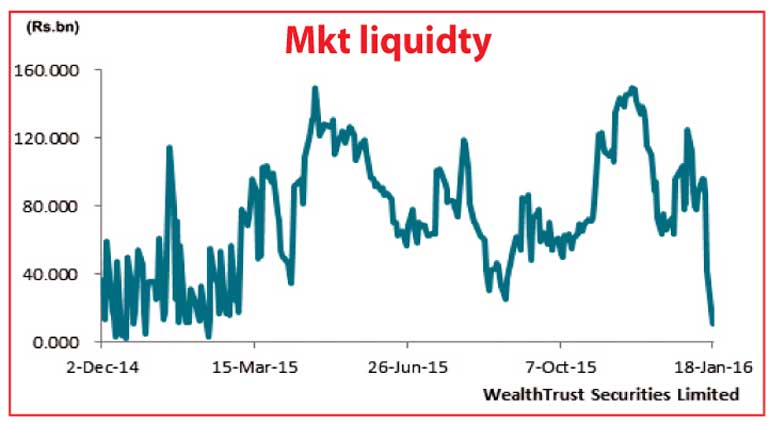 However aggressive demand for long-dated Treasury bond maturities saw the secondary market bond yield curve flattening out further yesterday mainly from the belly end to the long end of the yield curve. Relentless buying on the 1 July 2028, 1 January 2029, 15 May 2030, 15 March and 1 January 2041 maturities saw its yields dip to intraday lows of 10.80% each and 10.85% respectively against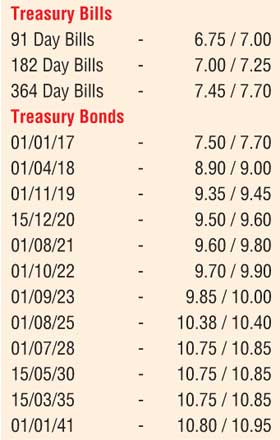 its days opening highs of 11.00% each, 10.90% and 10.95% each.

In addition, the 1 August 2025maturity was seen changing hands within a daily low of 10.35% to a high of 10.47% while the 1 May 2020 and 15 December 2020 changed hands within the range of 9.45% to 9.50% as well.
Rupee depreciates further

The USD/LKR rate on spot contracts was seen dipping further yesterday to close the day at Rs. 144.00/20 against its previous day's closing of Rs.143.85/95 on the back of renewed importer demand. The total USD/LKR traded volume for 14 January was $ 55.25 million.

Given are some forward USD/LKR rates that prevailed in the market: one month – 144.70/00; three months – 145.80/00; six months – 147.65/00.