LB Finance PLC building upon its tremendous success in the previous year achieved a 24% growth in profit before tax (PBT) to Rs. 3.2 Billion in the first half of the current year. The company reported a profit after tax (PAT) of Rs. 1.8 billion for the period under review, a 17% increase from the corresponding period.

Key performance indicators were on the up with Net Interest Income increasing to Rs. 4.7 billion, a 15% growth over the Rs. 4.1 billion achieved in the previous year's first half. Operating Income increased from Rs. 4.7 billion to Rs. 5.34 billion while Net Operating Income rose by 23% to Rs. 5.32 billion compared with Rs. 4.3 billion recorded in the previous corresponding period. Impairment Charges demonstrated a significant reduction of 96% to Rs. 15 million as result of prudent asset quality management.

The Total Assets base reached Rs. 89 billion, an increase of 23% over the previous year's figure of Rs. 73 billion while the Total Loans and Advances Portfolio stood at Rs. 79 billion. The Core Capital to Risk Weighted Asset Ratio and Total Capital to Risk Weighted Asset Ratio were maintained at 13.84% and 15.64% respectively, well above the 5% and 10% statutory requirement.

LB Finance PLC's long-term rating of 'A-(lka)'; Outlook Stable was affirmed by Fitch Ratings Lanka Ltd. during their annual ratings review of NBFI's on 2 August. According to the rating agency the rating of LB captures its established franchise as the third largest non-bank financial institution in Sri Lanka in terms of assets, and its satisfactory levels of capital, which are supported by healthy revenue generation and sound profitability through its higher yielding products.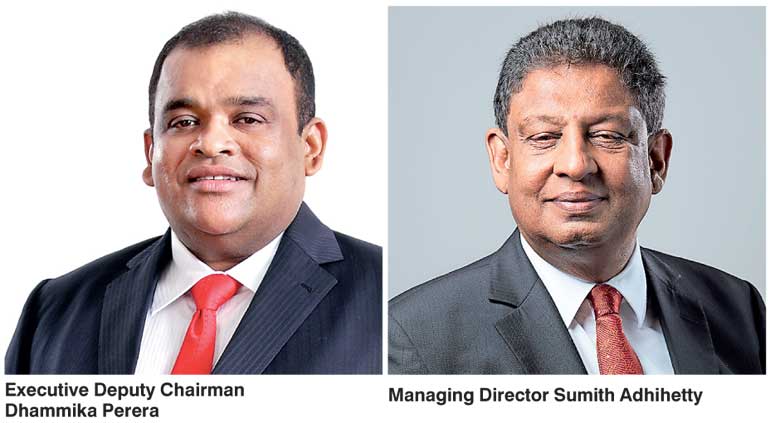 LB Finance PLC operates with an extensive branch network spread across the country as the NBFI with the largest reach in Sri Lanka and caters the financial needs of a growing customer base through a diversified portfolio of products. The company's sustained success is a result of consistent service quality provided through a customer centric culture which amplifies the brand value of the company. LB Finance expects to continue to further strengthen its dominant position as the market leader for many product segments including gold loans.

Established in 1971, LB Finance PLC through the years has built a strong reputation as one of Sri Lanka's most trusted financial organisations. With a total deposit base of over Rs. 53 billion, LB Finance remains as one of the largest non-banking deposit mobilisers in the industry.

The company also offers a variety of other services including leasing, factoring, hire purchasing, micro finance, mortgage loans and gold loans. LB Finance is licensed by the Monetary Board of the Central Bank of Sri Lanka under the Finance Business Act No. 42 of 2011.