LB Finance PLC recorded a profit after tax of Rs. 2.1 billion compared to the Rs. 1.3 billion recorded in 2013/14, a substantial growth of 63%.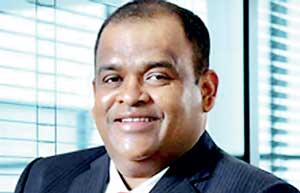 Net interest Income rose by 39% to record Rs. 7.7 billion compared to the Rs. 5.5 billion recorded the previous year. The total operating income grew to Rs. 8.b Billion compared to Rs. 6.5 billion achieved over the corresponding period of the previous year, a 36% increase. Total assets have reached Rs. 67.5 billion compared to Rs. 60.8 billion in year 2014.

"This significant growth in profits once again reiterates the trust and faith the people of Sri Lanka have placed on us. The year under review 2014/15 was a significant year for us. It was a year where the Company built on the momentum achieved during previous years and grew substantially," said Sumith Adhihetty, Managing Director of LB Finance PLC.

"We have been strategically focusing on a particular aspect of our performance each year. These strategies have helped us overcome challenges, acquire customers and even more importantly retain them," Adhihetty further said.

LB Finance PLC is a trail blazer in the financial services industry in Sri Lanka. The company was established in 1971 and through the years has built a strong reputation as one of Sri Lanka's most trusted financial organisations. With a total deposit base of over Rs. 45 billion, LB Finance is proud of the trust placed by the general public making the company the largest non-banking deposit mobiliser in the country.

The company also offers a variety of other services including leasing, factoring, hire purchasing, micro finance, mortgage loans and gold loans. LB Finance is licensed by the Monetary Board of the Central Bank of Sri Lanka under the Finance Business Act No. 42 of 2011.