LB Finance, Sri Lanka's trail-blazer in innovative financial services opened its 104th branch (139th Gold Loan Centre) in Kottawa on 5 January.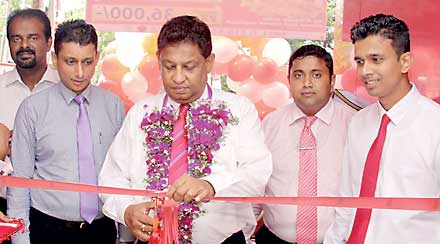 The fully-fledged branch was ceremoniously declared open on by Managing Director Sumith Adhihetty, Executive Director Niroshan Udage, Executive Director March Perera, Executive Director Ravi Yatawara of LB Finance and several other management personnel of LB Finance PLC.

"Customers in Kottawa and the surrounding area can now experience the wide range of benefits offered by LB Finance. At LB Finance, we ensure that our customers get the best service in town with our innovative financial solutions. With our speedy service customers can now enjoy hazel free leasing service to facilitate their financial needs," stated Adhihetty.

One of the fastest-growing and innovative financial services companies in Sri Lanka, LB Finance PLC specialises in offering a wide range of financial services including fixed deposits, savings accounts, leasing facilities, factoring, loan facilities, micro-finance facilities and gold loans.

LB Finance is a licensed finance company in Sri Lanka by the Monetary Board of the Central Bank of Sri Lanka under the Finance Business Act No. 42 of 2011.