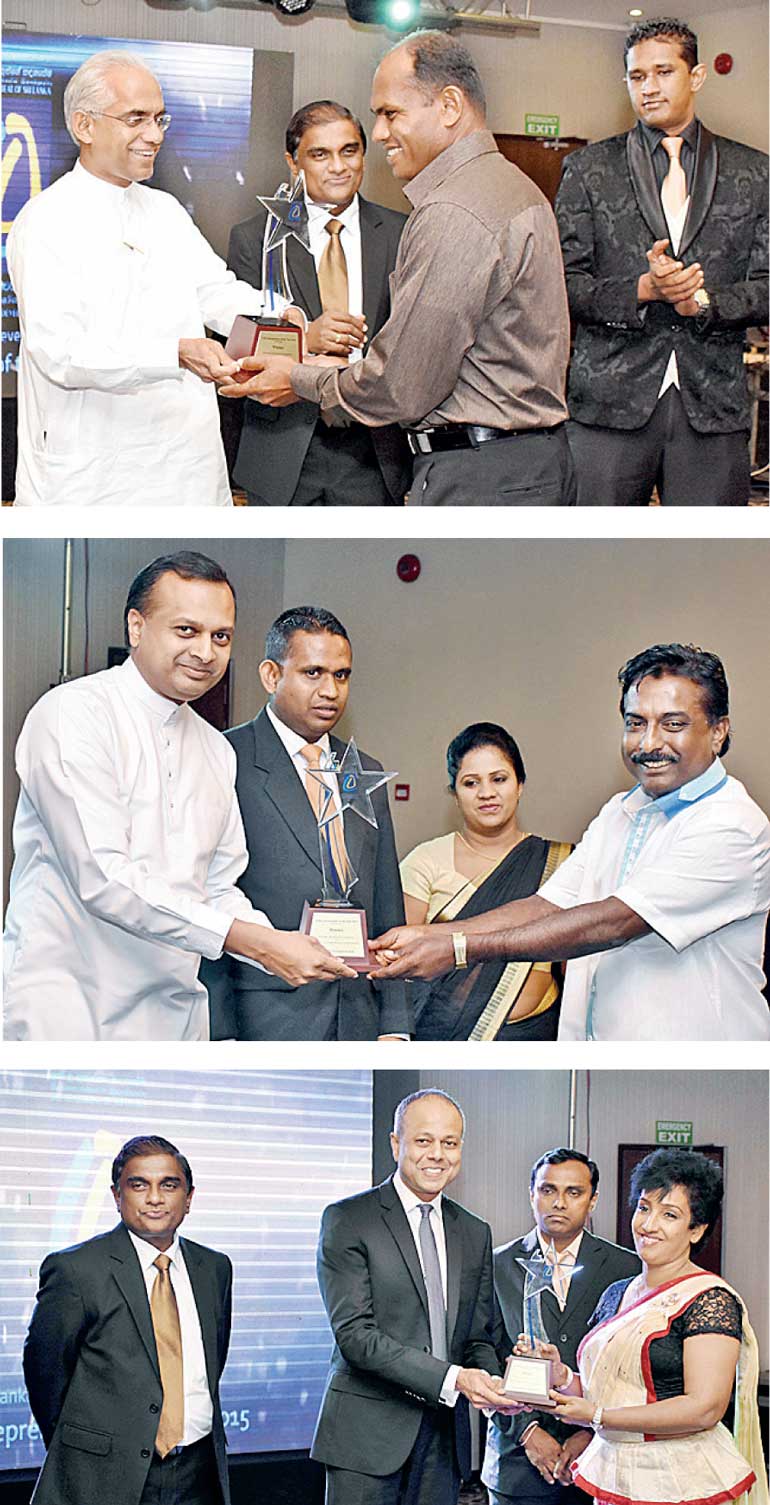 Lankaputhra Development Bank (LDB) successfully conducted its first-ever 'Entrepreneur Recognition Awards' in Colombo recently. The glittering event gave recognition to 100 entrepreneurs who have each built successful business ventures using loans obtained from the bank's network of eight branches.

The recipients of these awards were selected from small and medium-scaled as well as large-scaled industries. First, second and third placed winners were selected from various categories and presented a valuable certificate together with an award.

K. Prasanna, an entrepreneur who has built a successful dairy production business after obtaining a loan from the LDB Hambantota branch, received the award as the winner in the "Small-scaled Industries" category.

H.P.B. Gunawardena was adjudged the Best Entrepreneur in the "Medium-scaled Industries" category for his coir-related business venture. He had obtained his loan from the LDB Wennapuwa branch.

H.M.D. Champika was able to win the Best Entrepreneur award in the "Large-scale Industries" category for her highly-successful orchids and gerbera flower venture. She had obtained her loan from the LDB Colombo branch. In addition to these three overall winners, one hundred entrepreneurs from small, medium and large-industries were presented with certificates for their achievements.

The Chief Guests at this award ceremony were Minister of Law and Order and Southern Development Sagala Ratnayake and Deputy Minister of Public Enterprise Development Eran Wickramaratne.

Expressing his views at the award ceremony, Ratnayake stated: "It is clear that these award ceremonies play an important role in motivating entrepreneurs to aim higher and strive for better performance in their business ventures. The new vision of the Government is to uplift the businesses of the Small and Medium-sized Enterprises (SME) and bring them to the national level."

He conveyed his gratitude to the LDB Chairman and the Board of Directors for organising such an event for the first time in the bank's history.

Addressing the audience at the event, LDB Chairman Lasantha Goonewardena stated, "In 2016, the bank completes 10 years and this award ceremony marks this momentous occasion in the bank's history. It is all about recognising the achievements of our best entrepreneurs and motivating them to keep on growing into the future. I am also pleased to note that bringing all these entrepreneurs together into one location has also helped them to build relationships and learn new things that I am sure will help each and every one of them to carry out their businesses more successfully."

LDB provides attractive interest rates for savings and a high interest rate for senior citizens' fixed deposits. In addition to this, the Bank also offers microfinance loans, pawning services, "Sandaliya" savings account for women and "Shasthree" higher educational loan scheme specially designed for the benefit of students interested in pursuing Graduate, Post Graduate, Academic and Professional studies in locally and internationally-recognised educational institutes.

LDB operates successful branches in Colombo, Hambantota, Polonnaruwa, Kandy, Kegalle, Wennappuwa, Batticaloa and Trincomalee while an Information Centre was opened in Tambuttegama at the end of this year.

LDB Acting Director Thuan Reeza Hameet, General Manager/CEO Lasantha Amarasekara and several distinguished invitees also took part in this event.