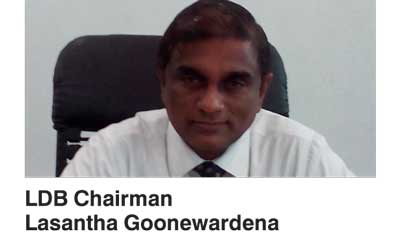 Lankaputhra Development Bank (LDB), which recorded a Profit After Tax of Rs. 104 million in the year 2014, has been able to increase this figure to Rs. 178 million by 30 November.

"This figure is expected to go beyond Rs. 200 million by the end of the year," stated LDB Chairman Lasantha Goonewardena.

Although all eight LDB branches suffered losses during 2014, during this year, five branches have managed to record profits so far while the remaining branches are heading towards a profitable outcome by the end of the year. With Wennappuwa, Polonnaruwa, Batticaloa, Hambantota and Trincomalee branches registering profits, the managers and other officials of these branches were given special acknowledgments by the Chairman while a special program will be set in motion in order to encourage them to continue such achievements. He added that the bank needs the fullest support and cooperation of the staff of the remaining branches in order to maximise their profits and end the year on a positive note.

LDB is currently making arrangements to open Service Centres at Tambuttegama and Akuressa before the end of the year. Through these Service Centres, the bank will be able to provide financial services to the Small and Medium-sized Enterprises (SME) in the area and provide accelerated solutions for their growing financial needs. Project reports will be evaluated quickly and entrepreneurs will be provided advice and guidance services.

In addition, plans have already been outlined to open LDB branches in all districts of the island by the end of 2016. "In order to face the year 2016 with optimism and energy, plans have been drawn up for the employees to undergo an attitudinal transformation and there will be greater emphasis placed on staff training in 2016," added Lasantha Goonewardena.

"Providing employees with certain achievable targets and evaluating their progress regularly as well as providing quick resolutions to their grievances are some of the strategies that can be utilised to increase satisfaction levels of the employees. Giving the management team a platform to voice their opinions on a regular basis is crucial to the progress of the bank," Goonewardena further added.

LDB successfully operates branches in Colombo, Hambantota, Polonnaruwa, Kandy, Kegalle, Wennappuwa, Batticaloa and Trincomalee.

LDB provides attractive interest rates for savings and a high interest rate for senior citizens' fixed deposits. In addition to this, the bank also offers microfinance loans, interest-free payments, pawning services, 'Sandaliya' savings account for women and 'Shasthree' higher educational loan scheme specially designed for the benefit of students interested in pursuing Graduate, Post Graduate, Academic and Professional studies in locally and internationally-recognised educational institutes.