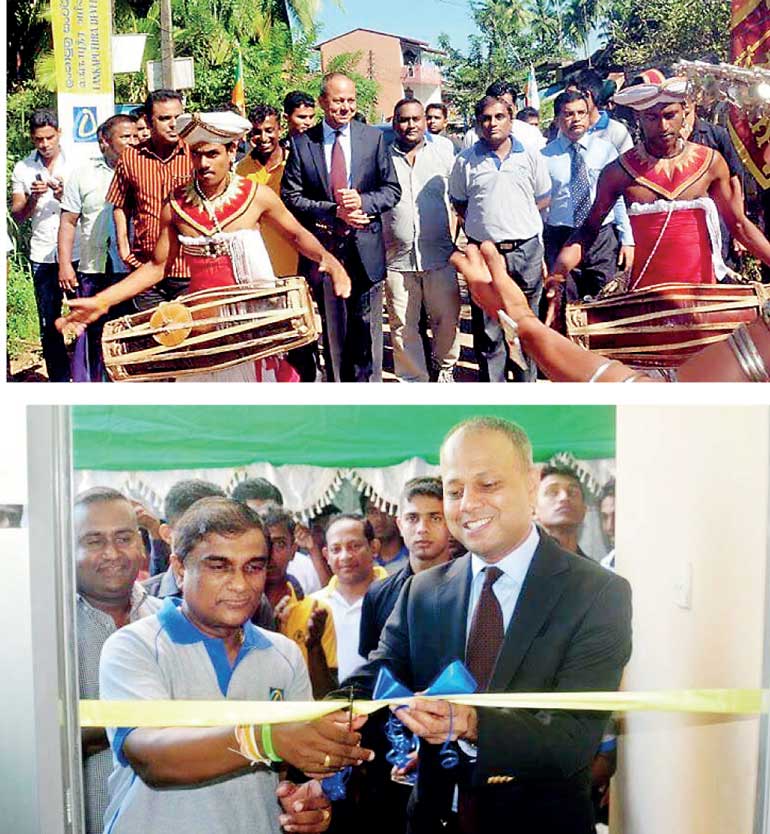 Minister of Law and Order and Southern Development Sagala Ratnayake cuts the ribbon at the auspicious time and declares open the second Lankaputhra Development Bank Information Centre located at Akuressa town. LDB Chairman Deshabandu Lasantha Goonewardena is in the background
The second Information Centre of the Lankaputhra Development Bank (LDB) was recently opened at the Akuressa town in the Matara District.

Minister of Law and Order and Southern Development Sagala Ratnayake ceremonially inaugurated the Information Centre at No. 39/1 Thalagassa Road Thibbotuwawa, Akuressa. LDB Chairman Deshabandu Lasantha Goonewardena and several leading dignitaries in the area participated at the event.

Having declared open the second Information Centre, Ratnayake stated: "This Information Centre will provide an enhanced service to the Small and Medium-sized Enterprises (SME) in the Matara District. I am happy to see that the Lankaputhra Development Bank has quickly understood the banking needs of the entrepreneurs in the Matara District and has come up with this service counter to provide them with much-needed banking facilities."

He added that the Government's new programme is focussed on motivating the entrepreneurs in the rural areas by providing them with the necessary facilities and infrastructure to keep their business ventures growing. "All this time, these rural entrepreneurs found it very difficult to access financial services but with this new programme, they will be given more priority," he further added.

Expressing his views at the occasion, Goonewardena stated: "I am proud to state that we have been able to help LDB recover from being a loss-making bank for several years to being a profit-generating bank today. The bank requires certain structural changes and we will be taking the necessary steps to enable such changes in the future." He added that it has been one year since he became the Chairman of the bank and during the 12-month period there were several challenges to overcome. "In the future, we intend to open an LDB branch in every district of the island," he claimed.

Fifty one entrepreneurs were provided loans through the Akuressa Information Centre. Minister Sagala Ratnayake handed over loans to entrepreneurs from Akuressa, Deniyaya, Pitabeddara, Athuraliya, Godapitiya and Thelijjawila involved in agriculture, home garden, small-scale tea industry and self-employment.

LDB provides attractive interest rates for savings and a high interest rate for senior citizens' fixed deposits. In addition to this, the Bank also offers microfinance loans, pawning services, "Sandaliya" savings account for women and "Shasthree" higher educational loan scheme specially designed for the benefit of students interested in pursuing Graduate, Post Graduate, Academic and Professional studies in locally and internationally-recognised educational institutes.

LDB operates successful branches in Colombo, Hambantota, Polonnaruwa, Kandy, Kegalle, Wennappuwa, Batticaloa and Trincomalee.