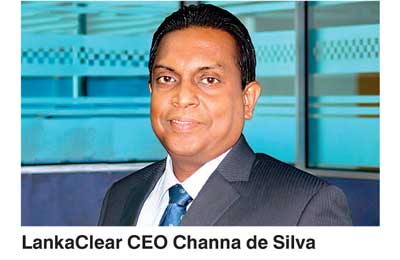 Taking a giant leap in further pushing financial inclusiveness, LankaClear, the operator of Sri Lanka's National Payment Network – LankaPay, has embarked on an exciting journey to create a platform to facilitate cashless real time payments in the retail sector via a low tariff regime.

Determined to boost Sri Lanka's electronic payment infrastructure, Lanka Clear is in the midst of tweaking its plans to enable low value retail payments to be facilitated via LankaPay Common Electronic Fund Transfer Switch (CEFTS). According to LankaClear CEO Channa de Silva, it is this element that would put the island nation on a fast paced development journey and moreover become a cashless economy.

Shaping the electronic payment industry was LankaPay CEFTS, which went live last year with six commercial banks and two non-bank financial institutes onboard. Today the network has grown to nearly 19 members connected. The Central Bank has issued a directive for all banking institutions to be connected to the network by September 2016.

With the facility becoming an overnight success, LankaClear is keen on going one step further. LankaPay CEFTS being a system that facilitates real time payments, which means transactions will be at its rightful destination at a fraction of a second once the request is made, a low tariff regime is expected to help boost its usage not only in the urban areas, but also amongst the rural masses.

Current status

Looking at the country's financial transaction volumes under the microscope, it is observed that though the option of facilitating a transaction via an electronic platform is already available, majority of retail payments still takes place using cash. Statistics from multiple global sources indicate that despite the surge in internet usage, cashless transactions account to somewhere between 2-5% of the total transaction volumes in this region.

According to payments bulleting of the Central Bank only 125 million transactions are happening on electronic mode for a year in Sri Lanka, which means somewhere in between 2.5-6 billion number of transactions are still transacted using cash while a majority of these are retails payments.

Even if we consider the lower figure of 95% being the number of transactions that are carried out using cash, de Silva stressed that it is imperative to create the shift in the immediate future if the economy is to reap benefits by limiting cash in circulation.

"Sri Lanka is gearing up and keen to fast track its growth, hence, it is important to reduce the physical money in circulation. If 95% or more of retail transactions are cash based, it means such cash does not enter the formal banking system, but would be currently sitting in somebody's cash box or a safe. The shift would benefit not only the banks in making higher profits earned through interest, but also help pull in the masses to benefit from financial inclusivity. That is the ultimate aim, get the majority of general public involved in the country's development process," said de Silva.

If Sri Lanka is successful in making this behavioural shift, it is expected that banks would see their profits surge upwards by Rs. 6-10 billion. Global studies have shown that the printing, distribution and managing cash costs a nation nearly 1.5% of its GDP. While this is the estimated worldwide average, the percentage is notably higher for developing economies.

Making the shift towards a cashless economy

While a number of avenues have been created to create a cashless economy, LankaClear's newest effort is to use low value CEFTS for retail payments. As we estimate more than 80% of the transaction in the retail space to be less Rs. 10,000, a low tariff regime is of paramount importance to be implemented to payments equivalent and below that value. While creating a paradigm shift is easier said than done LankaClear plans on bridging the gap by leveraging on an instrument that is bound to explode as the most widely used device – smartphones.

"We realise that we have to use an instrument that a majority of the population is bound to use in time to come. As it is, there are approximately 4 million smartphones out there in the country. We anticipate it to grow to around 10 million in a relatively short period of time because the devices are being made more affordable with time. The current number itself is a substantial volume to work with," noted de Silva.

Low tariff

It is acknowledged that when charges are perceived to be high, consumers tend to move away from using a service. The idea of low value CEFTS is to make consumers not have any reservations about tariffs when using online payment options. According to Lanka Clear chief, their efforts will only be successful if consumers are willing to go cashless even for a transaction value as low as Rs. 250. This can only be achieved through significantly lowering the tariffs.

"What we realised is that currently banks charge in the range of Rs. 50 for a CEFT transaction. If your transaction value is only Rs. 100, such as a three wheeler charge, no one would be willing to pay Rs. 50 as a transaction fee. That would certainly drive them towards using cash.

"We are looking to steeply reduce this to the point that for a transaction below Rs. 1,000, the fee should be in the range of Rs. 1. Once we achieve such levels only we believe that people will be willing to go cashless. In addition, some progressive banks may even absorb this cost completely and provide such services free to the customer, who will certainly drive adoption," opined de Silva.

Challenges

Just as for some of the services under LankaPay brand, even in the rolling out of CEFTS, the challenges for banks are to ensure that a sufficient number of merchants come onboard to offer such services. Even though there are almost 15 million debit cards issued in the country, the usage of these cards on POS machines is still in single digits, percentage wise.

"This means that only a minimal number of card transactions are happening by using POS machines. So getting the merchants onboard is imperative," he noted.

The second challenge is the lack of wide availability of user friendly applications for payments. The current issue in this regard is that although banks may have applications to facilitate cashless payments, customers are limited to use an app developed by his or her own bank only to transact.

IT industry is encouraged to develop applications that would facilitate multiple customers to make payments regardless of his or her bank.

Way forward

Anything complicated to use will no doubt be frowned by the common man who may not be tech savvy and especially when considering the rural masses. The LankaClear chief stresses that low value CEFTS will greatly be pushed if the system manages to enable a one-click-pay system, which also supports local languages.

"If the application is cumbersome to use, it will be simpler to use cash. We are trying to change a buying behaviour and in order to achieve this we have to make the experience as close to or even simpler than the current process of using cash," said de Silva.

According to him, this is the area where the IT industry should come up with innovative, seamless, secure and very simple to use applications for the general public to use, including the common farmer or the milkman. The other aspect is obviously ensuring security of payments, which is why we are planning to introduce a baseline security standard for payment applications with the blessings of the Central Bank to ensure mobile based transactions are much more secure than using cash.

"We are striving hard with the financial community to ensure that this change of behaviour takes place island-wide and the only way of getting there is to ensure that the costs are lower, applications are user friendly and the payments are secure," said de Silva.