Janashakthi Insurance PLC's incumbent Non-Executive Chairman and Director W.T. Ellawala, is to announce his retirement at the forthcoming Annual General Meeting of the company to be held on 31 March.

Appreciating Ellawala for the invaluable service and contribution rendered to the company, Janashakthi Insurance PLC Founder C.T.A. Schaffter said, "I am deeply grateful to Ellawala for accepting my invitation to join the Board of Directors of Janashakthi at the point of its inception, and even more for remaining with us for over two decades. Ellawala has undoubtedly played an integral role in shaping our company's success and his extraordinary vision and leadership have proved to be instrumental in helping the company persevere and progress over the years. His high ideals and code of ethics will always remain with us and continue to inspire us in the years ahead. While extending our heartfelt appreciation to Ellawala, we wish him all the very best."

Ellawala joined Janashakthi as a Director at the time of its inception in 1994, playing a vital role as it advanced from its humble beginnings as a small Life Insurance company into becoming the household name it is today. He subsequently took on the role of Non-Executive Chairman in 2005. A widely respected individual in the business community, Ellawala holds several positions of significance across diverse industries.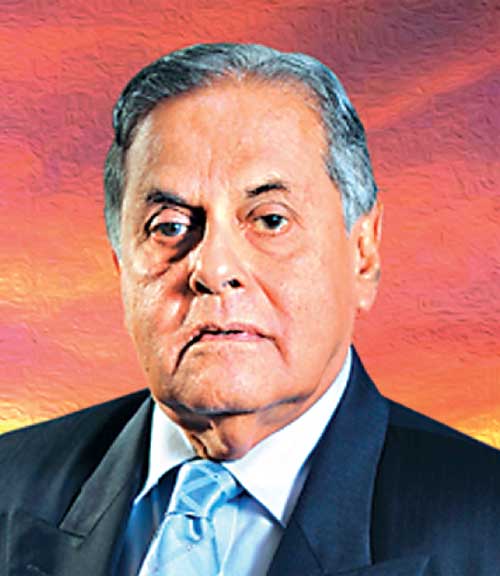 W.T. Ellawala
Speaking on the occasion, Ellawala noted, "I have had the privilege of being a part of this organisation and witnessing it grow from a small Life Insurance provider to becoming one of Sri Lanka's leading Insurance organisations. It has indeed been an extremely rewarding experience to have contributed to its expansion through a range of initiatives that included the acquisition of two Insurance companies, the National Insurance Corporation in 2001, and AIA General Insurance Lanka Ltd. as recently as in October 2015. I wish to acknowledge with deep appreciation the co-operation, wise counsel and guidance I received from my colleagues on the Board, and to particularly recognise the support and guidance I received from C.T.A. Schaffter, the founder of Janashakthi Insurance during my tenure."

"I have had the privilege of working closely with Ellawala at Janashakthi. The company has benefited immensely from his invaluable experience and insights. Nurturing our entrepreneurial penchant for innovation and growth, Ellawala's business acumen and high corporate values have helped establish a stronger foundation for the organisation. We are deeply grateful for the direction he provided us with, which has undoubtedly helped establish Janashakthi as a leader in the Insurance industry of Sri Lanka. We will no doubt miss his leadership and presence on the Janashakthi Board," said Janashakthi Insurance PLC Managing Director Prakash Schaffter.

Janashakthi Insurance PLC, founded in 1994 by renowned Insurer C.T.A. Schaffter, made its mark in the industry as an innovator and household name within a short span of two decades. Today, the company stands strong as a leader in Motor, Non-Motor and Life Insurance services, and with its recent acquisition of AIA General Insurance Lanka Ltd., continues resolutely on its journey of becoming the No. 1 Insurer in Sri Lanka, with an unwavering commitment towards delivering excellent service to its customer base.