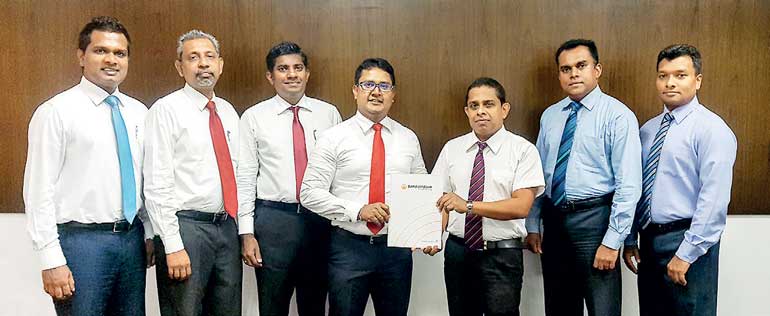 Sri Lanka's first insurance comparison web platform www.insureme.lk has joined hands with Sampath Bank to offer convenience of buying general insurance policies online for the first time in Sri Lanka. The insureme.lk web platform allows customers to compare insurance quotes offered by leading insurers in Sri Lanka and purchase their choice of insurance policy with a click of a button.

And now, with the partnership of Sampath Bank, customers can buy their insurance policies online by paying through Sampath Bank's secure payment gateway or selecting Sampath Vishwa at the payment checkout.

With InsureMe.lk, the entire process of comparing, selecting and buying of general insurance policies can be done 100% online, without ever having to make a call or visit a branch and it's a hassle freeway of buying insurance which suits the busy lifestyle of today's customers.

Commenting on the partnership with InsureMe, Sampath Bank Assistant General Manager New IT Business Development Rajendra Ranasinghe said, "We believe that InsureMe has come up with a novel concept to respond to the changing needs of the market and Sampath bank always provide innovative banking/payment solutions to its customers. Our payment solutions will offer customers a much safer and a convenient way of paying online that gives them peace of mind.

InsureMe.lk CEO/Director Vipula Dharmapala said, "InsureMe revolutionised the insurance industry by launching Sri Lanka's first insurance comparison web platform. We always strive to enhance convenience for our customers, which is a demanding need of today's customers. We believe that Sampath Bank is the perfect partner to offer hassle free online payment solution and this partnership will ensure the safety and security of the transactions of our valued customers."

InsureMe.lk is a one-stop destination that offers unbiased and transparent information about general insurance policies and works with the top insurers in the country to offer unparalleled and professional service for their customers.

InsureMe is founded by a team of insurance specialists with the objective of delivering a professional service to insurance customers by offering innovative and convenient solutions. InsureMe team has decades of combined insurance experience in the main areas of insurance underwriting, technical aspects, claims and servicing, insurance finance, and marketing. InsureMe is probably the only insurance brokering company with such a diverse skill set.