Reuters: India will consider merging some of its more than two dozen state-run banks, the finance minister said on Saturday, as the government seeks to improve efficiency at the ailing lenders that dominate the nation's banking sector.

Bankers have 'strongly supported' the idea of consolidation, suggesting the government form a panel of experts to devise a merger strategy, Arun Jaitley said after a two-day annual brainstorming event of industry leaders and officials from the central bank and finance ministry.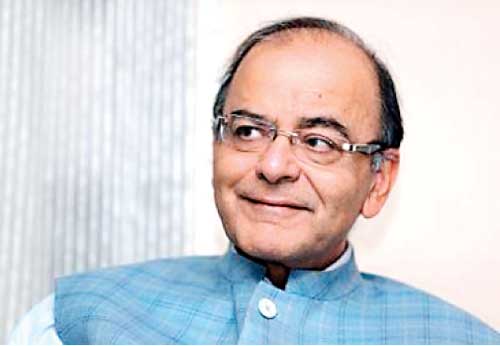 Arun Jaitley
State-run lenders hold more than two-thirds of assets in India's banking industry.

But they also hold about 85% of non-performing loans after adding toxic assets at a faster pace than their private sector rivals, hurting profitability.

About 40% of Indians have little access to formal banking channels yet industry analysts question the need to have more than two dozen government-owned lenders.

"You need strong banks rather than numerically a larger number," Jaitley said.

"What is the best course for consolidation? Where do you start from? Which are the banks to be considered?" the minister said.

He added that the planned panel would consider options such as making some banks subsidiaries under a holding company, merging a weaker bank with a stronger bank, or allowing banks that are stronger in a particular region to merge.
SBI among new Asian banks approved in Myanmar
YANGON (Reuters): Myanmar has granted operating licences to four Asian banks, bringing to 13 the number of foreign banks allowed to conduct business in the previously isolated country.

Bank for Investment and Development of Vietnam, State Bank of India, Taiwan's Sun Commercial Bank and South Korea's Shinhan Bank were granted preliminary licenses, Myanmar's Foreign Bank Licensing Committee said in a statement on Friday.The approval gives the banks 12 months to demonstrate they can fulfil business plans laid out in their application to Myanmar's government before they will be granted permanent licenses, the statement said.

The decision is just the second time Myanmar has granted licenses for foreign banks to open since a semi-civilian government took over in 2011.

An earlier round in late 2014 saw licenses granted to nine foreign banks, also all from Asian countries. Myanmar is home to 24 private local banks and four state owned banks.

Myanmar has pursued far-reaching reforms since the end a half-century of harsh military rule in 2011 in the hope of reversing isolation that saw the country become one of Asia's poorest.
Central Bank governor Raghuram Rajan said in January it was 'premature' to talk of bank mergers when bank managements were preoccupied with dealing with stressed assets.

Jaitley said on Saturday it was too early to say how many state-run banks would emerge at the end of a consolidation process and declined to give any timeline for the shake-up.

Among other measures, Jaitley said, the government was considering an employee stock option plan for state-run banks, where senior executives earn far less than their private sector counterparts.

He also said the government was considering amending some rules, including strengthening the debt recovery tribunals, to help banks recover bad loans more quickly.