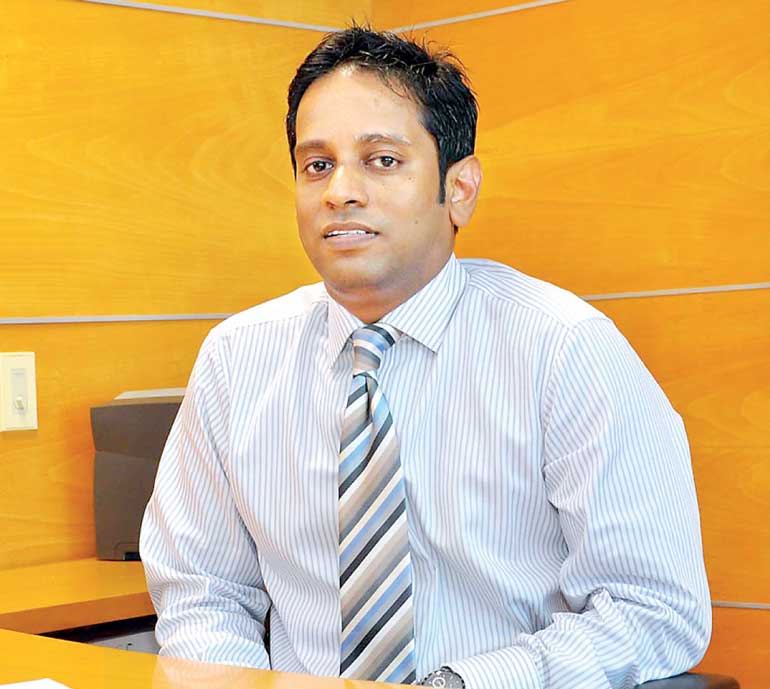 HNB Deputy General Manager – Corporate Banking Ruwan Manatunga

Q: What is the position of Corporate Banking Non-Performing Assets (NPAs)?

A: It is at record low levels – below 1.25% – which can be considered very healthy in terms of the industry ratio.

Q: On NPAs, what is the general average in the Corporate Banking industry?

A: There are readings that go up to 3% in this sector.

Q: HNB has deployed Corporate Banking 'Lending' assets overseas for the first time. Can you explain?

A: Yes, we have made deployments in countries such as Cambodia, Bangladesh, Uganda and Maldives. We will continue to pursue such overseas opportunities in the coming months and years.

With the prevailing challenges in the internal and external environments, corporate customers seem to adopt a wait-and-see approach in making capacity investments until there is more clarity in the country's fiscal and monetary policies. Hence, lending opportunities are limited in the current market.

In this backdrop, HNB found it important to diversify its lending assets overseas. This was a good opportunity to expand and diversify our 'Lending' book and the profitability margins are also attractive. HNB is keen on investing in an equity holding overseas and these 'Lendings' may pave the way to such opportunities in the future. We will continue to look at good lending businesses both in Sri Lanka as well as overseas.

HNB also plays a significant role to develop the country's debt capital market by investing heavily in listed corporate bonds. The portfolio is one of the largest and is well over Rs. 15 billion.

In 2015, Corporate Banking set up a 'Mid-Market Enterprise Group,' dedicated relationship management teams to focus on a market segment, which until recently received limited focus. This Group consists of clients that have outgrown the status as a SME (lending potential between Rs. 250 million to Rs. 500 million), and hence, now require more sophistication in their banking products and services.

Q: Can you elaborate on HNB's focus on Project Financing solutions?

A: We lead the market in delivering Project Financing solutions for our corporates to meet their strategic business expansion goals. This best in class Project Financing team has an unparalleled track record of structuring financing solutions for both domestic and cross border deals to suit the specific requirements of our customers.

The bank's Project Financing business is a total service offering ranging from origination and arrangement, to underwriting and syndication of buy-outs and corporate acquisitions. The Project Financing team has also played a lead role in providing financing solutions for infrastructure projects in the areas of wind power, solar power, hydro power, water purification, healthcare, education, tourism, highways and bridges, etc. The team's deep understanding of specialised markets knowledge also enables it to support clients, across all sectors.

Q: There is priority on financing infrastructure development?

A: Yes, HNB plays a key role in supporting the country's infrastructure development needs. We have an ongoing lending portfolio of over Rs. 75 billion and are committed to further supporting this very important sector.

Q: What are the immediate challenges facing the Corporate Banking business?

A: The increasing cost in mobilising deposits especially over the last three months have had a dampening impact in deploying 'Lending' assets profitably. Lending opportunities are currently limited as corporates adopt a 'wait and see' approach. The second half of the year will be favourable if FDI flows strengthen, GSP Plus materialises and there is further growth in tourism especially in the premium segments.

To achieve the country's full growth potential, Sri Lanka must be positioned to be the gateway to India similar to what Hong Kong is to China. In this regard, concerted efforts in making structural changes to the economy as well as policy formulation needs to be done at the earliest to attract FDIs especially into manufacturing, agriculture, tourism, transhipment, services and infrastructure sectors.

The country's economic and social growth plans, including immediate challenges, should be well articulated to both local and overseas business communities on a regular basis so that their expectations are managed and commitment to the country is secured.

The management of local interest rates, rupee exchange rates and taxes should be well thought through so as to compliment greater private sector and foreign participation in the economy. Also important is maintaining the country's external and internal debt exposures.

Going forward, HNB and other local banks will play a dominant role in the banking arena, especially in corporate banking, which until recently was dominated by foreign banks. With the anticipated growth in the country's economy in the coming years, there will also be greater support by the banks to the SME businesses, which are, in any economy a major contributor to a country's growth story.

We also foresee a significant migration of customer transactions from branches to electronic channels, and banks over the next few years will invest more in ATMs, Internet, mobile and credit card business rather than in brick and mortar. The country's banking landscape is crowded with too many commercial banks, and it is inevitable, that there will be consolidation taking place in the near future.

Q: Can you outline some of the key funding transactions concluded recently that is a testament to HNB's support to the corporate business community?

A: We supported customers across all the key economic sectors of the country and amongst them are $ 100 million for JKH's Waterfront Project, $ 18 million for Hela Clothing's acquisition of Foundation Garments, Rs. 6 billion for Softlogic Group's acquisition of Odel, Rs. 2 billion for the LAUGFS Gas acquisition investment in a Bangladesh LP Gas storage and distribution operation and Rs. 1.5 billion for Access Group's acquisition of Nine Wells Hospital are noteworthy.

Q: The development of a new state-of-the-art electronic banking platform is on the cards?

A: That's right; the objective is to better support both cash management and international trade needs of the bank's corporate customers through a state-of-the-art electronic banking platform. This is a testament to the bank's commitment to provide the best in the market product solutions. This banking platform, to be launched in mid-2016, will be the first of its kind amongst local banks and be on par with electronic banking platforms of all other international banks.

Q: What was HNB's investment on the proposed platform?

A: We have invested $ 4 million. Given the bank's wide footprint in Sri Lanka, following the launch of this end-to-end electronic banking platform, HNB will be well positioned to compete with multinational banks to win over cash flows of our customers. Apart from the profitability factor, this investment will further support the bank to maintain its leadership position in the market by enabling HNB to further add value to our corporate customer relationships.

Q: How would you describe the progress of 'Al Najah', HNB's Islamic banking solution?

A: The brand has, over the past few years, grown to be the preferred Islamic banking institution in the market. The strong and dedicated team that is well experienced and competent in Shariah rules and regulations offers speedy solutions to this segment of customers across all 250 branches of the bank. This business in 2015 grew its asset base by over 100%, a record achievement.