'It Can Wait' is Sri Lanka's first public service announcement short film based on the impact that distractions have whilst driving
HNB General Insurance, a subsidiary of HNB Assurance, initiated an awareness campaign that relates to the main reasons for road accidents in Sri Lanka. The company produced a short film 'It Can Wait' which is Sri Lanka's first ever PSA (Public Service Announcement) based English short film.

'It Can Wait' was directed by debut filmmaker Shaveen Bandaranayake who aimed to foster a culture of PSA's within the local media fraternity and incorporate it within the strategic communications of companies.

With an increasing amount of road accidents, a seemingly unnoticed and unavoidable factor has been that of texting while driving.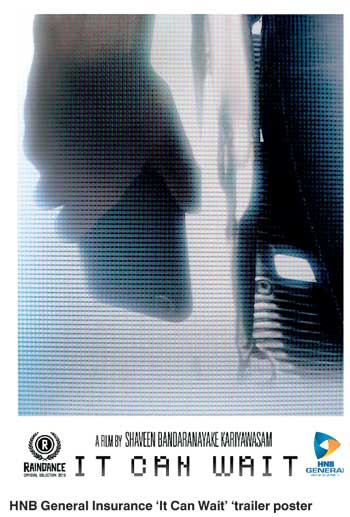 With this premise in mind, 'It Can Wait' aims to communicate the importance of paying attention to the road and not the phone while driving, by showing the adverse aftermath of a life lost.

Commenting on this, Dilshan Perera, Head of Marketing of HNB Assurance, stated: "As a responsible Insurance provider, we wanted to give a clear message to the public by portraying the importance of safe driving and the impact that texting while driving has on you and the people around you; this is a powerful message we wanted to put across via social media. We initially posted the trailer on social media platforms such as Facebook and YouTube and will be uploading on other social media platforms and in chosen cinema halls around the country. Having received an overwhelming response for the trailer which was launched online recently, 'It Can Wait' is set to premiere before the end of the month online and in theatrical format."

Speaking on the ultimate goal of such a project, Bandaranayake noted: "It's a seldom spoken about topic in Sri Lanka and being a developing country, one that we need to start talking about. However, this is not the only social issue that deserves attention. I believe more organisations need to step up and utilise this format to educate the public."

'It Can Wait' was globally recognized when it was screened at the 23rd Raindance Film Festival, UK, in September. The short film about texting and driving was an Official Selection for the Raindance Film Festival in UK.

HNB General Insurance, incorporated in 2015 is a subsidiary of HNB Assurance PLC, which specializes in a variety of motor and non-motor insurance solutions, is a fully owned subsidiary of HNB Assurance PLC. HNBA is also rated within the Top 100 Brands and Top 100 companies in Sri Lanka by LMD and HNB Assurance recently won International awards for Brand Excellence, Digital Marketing and HR Excellence and also won many awards for its Annual Reports at the Award ceremonies organized by the Institute of Chartered Accountants of Sri Lanka, ACCA Sri Lanka and SAFA (South Asian Federation of Accountants)