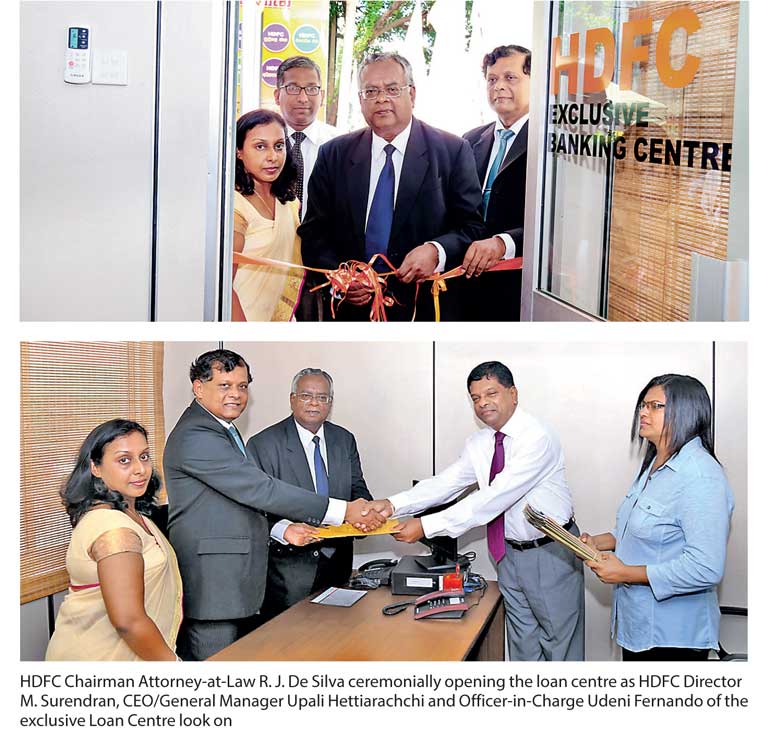 Sri Lanka's premier housing finance institution, HDFC Bank opened a dedicated service centre for loans at the bank's Hyde Park Corner branch premises. The bank expects to provide a customised service for its customer at this center.

At present, several tailor made home loan schemes are in operation. One is 'Kedella' Loan scheme that provides financial facilities upon a guarantee of property. The flagship product, Kedella is offered for several purposes such as purchase of bare land for residential purposes such as purchase of a house, building a house, renovation or extension of one's home, obtain water and sanitary facilities and electricity, etc.

One of the most distinctive products that the HDFC Bank offers to the public is the 'Shrama Udana' loan scheme which is unique for members of the Employees' Provident Fund (EPF). The EPF members can offer their EPF balance as security for the loan. At present, the HDFC Bank is one of the few banks in the country to offer this service. Personal guarantee loans are also offered for housing purposes. The HDFC Lifestyle Loan is another scheme, where customers can obtain a loan to purchase house hold items for their homes. The 'Sirisara Loan' scheme enables the customers to obtain financial support to complete necessary repairs or structural redesigning as well as purchase furniture and other household appliances.

A well-trained team of employees will serve the customers from 8.30 a.m. to 6.00 p.m. on weekdays to fulfill the housing and other financial requirements of customers by providing an exceptional service, within a few days. The bank's immense experience gained through over three decades of providing the Sri Lankan consumer with superior housing solutions, will be used effectively to provide a complete package of housing financial needs and other financial facilities at this newly introduced unit at the HDFC Hyde Park Corner branch. The Directors of HDFC P.M. Gunawardhana, N. Wijeyanathan, Chief Operations Officer S. Dissanayake, AGM Business Development and Marketing H.S. Gunathilake, HDFC Hyde Park Corner Branch Manager E.D.D. Sampath and other members of the corporate management, a number of staff members and customers of the bank also attended the occasion.