First Capital Holdings Plc is firming up arrangements to establish a formal tie up with Japan's 14th largest in the industry Musashi Securities Ltd., to promote inward investments in to Sri Lanka's capital markets.

Recently Musashi Securities Managing Director Yoshitaka Harada and General Manager Sales Planning Department Hiroshi Nomoto were in Colombo on a fact finding visit as well as meet with relevant Government officials and private sector firms.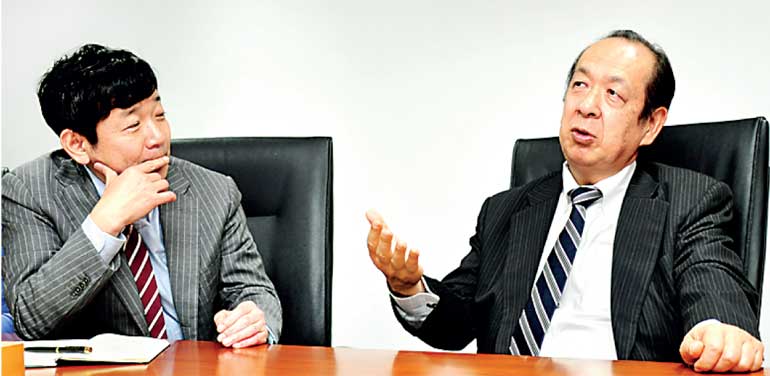 Japan's Musashi Securities Managing Director Yoshitaka Harada (right) gestures during the interview with Daily FT along with General Manager Sales and Planning Department Hiroshi Nomoto
In an interview with the Daily FT, Harada expressed his positive outlook for attracting Japanese investments in to Sri Lanka. Under the arrangement with First Capital Group via its subsidiary First Capital Equities Ltd., Japanese investments in to listed companies will be explored. First Capital Equities will also provide research on listed companies for investment analysis by Musashi Securities.

Harada also said Musashi will tap opportunities in Sri Lanka's government securities market as well as listed corporate debt.

At present Musashi which was set up in 1918 has Japanese Yen 700 billion worth of funds under management. With a network of 23 branches and online platform, Musashi's main activities include brokerage covering equities (including Japanese, US, and Hong Kong), ETFs and Bonds. It also deals with domestic equities, futures and options, underwrite IPOs and POs, distribute investment trust funds, Eurobonds and advices on mergers and acquisitions, business matching and insurances.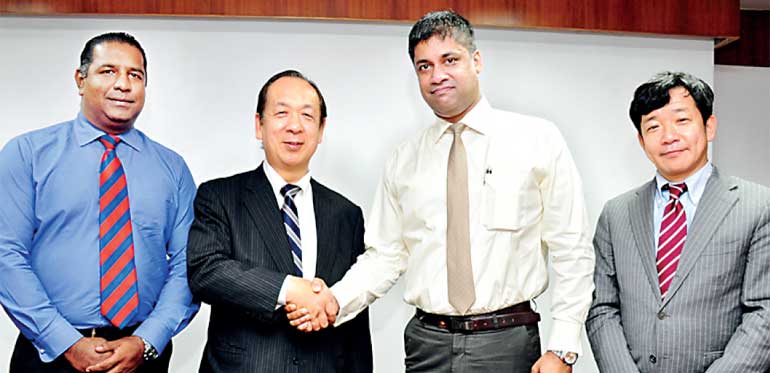 First Capital Holdings Plc CEO Dilshan Wirasekera (right) shakes hands with Japan's Musashi Securities Managing Director Yoshitaka Harada while First Capital Equities CEO Jaliya Wijerathne and Musashi General Manager Sales and Planning Department Hiroshi Nomoto look on – Pix by Lasantha Kumara
Musashi is the first brokerage to introduce the Sharia fund in Japan. It is a member of the Tokyo Stock Exchange, Osaka Stock Exchange and Nagoya Stock Exchange and Japan Securities Dealers Association.

Harada said Musashi has at present around Japanese Yen 2 billion invested in South Asia, primarily in India, Pakistan and Bangladesh and a small amount in listed Lankan securities made in the past.

"Under a formal tie up with First Capital, we are hoping to have a great engagement," Harada emphasised.

Encouraged by better understanding of improved political and economic climate as well as future prospects, Musashi will develop a strategy to increase awareness and education on Sri Lanka among Japanese investors, especially retail.

"Recent political, socio-economic progress in Sri Lanka is very good. Since this is my first visit, I must admit it is better than I expected. We see improved future prospects. Overall our confidence on Sri Lanka has strengthened," said Harada during the interview along with First Capital Holdings CEO Dilshan Wirasekara.

However he pointed out that liquidity levels in the Colombo Stock Exchange must be enhanced if Sri Lanka is to attract a larger pool of Japanese investments. Nevertheless Musashi was pleased with the CSE's offering of diverse sectors for investments. "We find valuations of several blue chip companies very attractive," Harada added.

Musashi will also explore future issues of Sri Lanka Development Bonds and Government securities. "Improved credit rating will ensure a greater inflow of Japanese investments," he added.

First Capital Holdings PLC is the holding company of the First Capital Group offering a full range of investment banking products and services, through subsidiaries operating in debt and equity markets. The Group comprises of First Capital Treasuries, a Primary Dealer licensed by the Central Bank; First Capital Asset Management, an Investment Manager licensed by the Securities and Exchange Commission of Sri Lanka which also manages several dedicated fixed income Unit Trusts; First Capital Equities a licensed Stockbroker and Member of the Colombo Stock Exchange; First Capital Markets, a licensed Margin Provider and First Capital Ltd., a structuring and placement agent for debt and equity, and provider of corporate finance and advisory services.

For nearly 30 years, the First Capital Group has been a leading non-bank financial institution in Sri Lanka. A pioneer Primary Dealer in government securities, First Capital has steadily grown to become a leader in this field, buoyed by a loyal and continuously growing customer base. The company operates in Colombo and several major cities in Sri Lanka.