First Capital Holdings PLC (FC) a full service investment bank with 30 years of experience recently launched the 'FC Capital Market App', providing up to date information on the Sri Lankan capital market free for Android and IOS smart mobile users.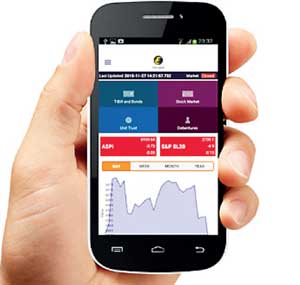 The FC Capital Market App gives investors and market enthusiasts detailed insights into government securities, stock market, debentures and research. The users can create a personalised watch list to keep track of chosen securities and eliminating the need to access multiple information sources.

"The app enables investors the convenience to follow the performance of their investment portfolio and is available free for downloading onto smart mobile and tablet devises for any interested user and doesn't require a client account with First Capital," First Capital Holdings PLC Chief Executive Officer Dilshan Wirasekara stated.

The FC Capital Market App can be downloaded on App Store, Google Play and through the company's website: http://www.firstcapital.lk/mobile-app/.