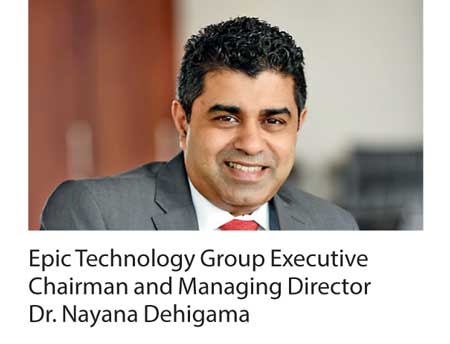 Premier and award winning regional technology leader – Epic Technology Group, synonymous for innovative and superior 'FinTech' Solutions, will be on show at the 'Seamless Middle East' to be held in Dubai at the World Trade Centre on 1 and 2 May. Epic will demonstrate many world-class and one-of-its kind FinTech and Content Management innovations at this exhibition.

Speaking further on this Epic Technology Group Executive Chairman and Managing Director Dr. Nayana Dehigama said, "We want the region to get a first-hand experience of Epic's innovative and disruptive Fintech Solutions that will be showcased at Seamless Payments Middle East. Surely, our solutions are highly creative and one-of-its-kind. They will be quite different to what is commonly available in the market, so Seamless Middle East will be an ideal forum for industry leaders and decision makers to experience the difference". Epic's out-of-the box, advanced yet affordable technology solutions have changed the traditional landscape of secure payments, enterprise content management, secure mobile communication, mobile enterprise automation, and information security domains.

Epic's innovative technology solutions are designed and created by a talent pool of over 200 in-house engineers and experts. Epic also has its very own Research and Innovation Centre with dedicated researchers who continue to push the limits of innovative world-class technology. "We are proud to be a regional technology innovatorgearedto serve theinternational markets with world-class products and expertise," further added Dr. Dehigama. The Epic Mobile Wallet is one such innovation, which is the world's first-ever application that integrates 'payer' and 'payee' into a single wallet, while integrating multiple payment instruments and payment modes as preferred by the users. "Visit our booth and experience this revolutionary product, which will be on show at Seamless Payments Middle East," Dr. Dehigama concluded.

Epic Technology Group owns an ultra-modern office infrastructure equipped with world-classsoftware development, research and recreation facilities providing technocrats an ideal environment to work and utilise their skills passionately and creatively. Epic heavily invests in continuous knowledge assimilation and competence building, which they believe to be the pillars of roaring success over the past 19 years. At Epic, employees are nurtured thoroughly on domain expertise and are provided with ample opportunities to develop core and distinct competencies in preferred domains. Its talented workforce constantly contributes towards bringing a clear differentiation in customer satisfaction and product supremacy.

Epic is an award winning technology leader of international repute that 'bridges humans and technology' through innovative solutions. Its state-of-the-art software development centre in Sri Lanka is strengthen by a dedicated R&D team, and the Global Business Development and Service Units operating in Malaysia, Singapore and Japan. EPIC manages all aspects of the product development cycle including R&D, designing, prototyping, development, testing, maintenance, and support, while adopting its products to multiple platforms, devices, and databases. All products and solutions created by Epic meet international and industry standards as Epic is certified for ISO 9001-2008, ISO 27001-2013, CMMi Level 3 and PA-DSS.

Seamless Payments Middle East, the region's largest exhibition and conference for eCommerce and secure payments held annually in Dubai attracts large number of visitors from the UAE, Africa, South Asia and Europe. Last year on an average 10,500 participants attended this exhibition; and this year with leading Industry experts speaking on both days, organisers expect in excess of 12,000 visitors. Seamless Awards 2017 will be held alongside the show rewarding industry leaders for their superior innovations in FinTech. Epic's flagship products – 'Epic Mobile Wallet' and 'Epic Branchless Banker' have been shortlisted for awards at this ceremony, which will be held at the Armani Hotel in Dubai.