Long-standing Director Dr. Harsha Cabral PC has been appointed as the Chairman of LOLC Finance Plc.

The move follows the retirement of Justice R.K.S. Suresh Chandra, who served as Independent Director and Chairman, upon reaching 70 years of age.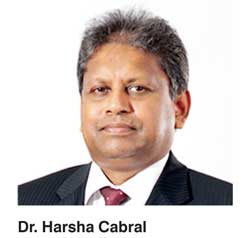 Dr. Cabral was first appointed to the LOLC Finance Board as an Independent Director in January 2011. He was re-designated as a Non-Executive Director in August 2015 subsequent to his appointment to other Group companies.

He is currently the Chairman of the Tokyo Cement Group of Companies, the largest cement company in Sri Lanka and is a Director of several listed and unlisted companies.

Dr. Cabral has been a President's Counsel for 11 years and has 29 years of experience specialising in the fields of company law, intellectual property law, commercial arbitration, commercial law and international trade law.

Dr. Cabral has a PhD in Corporate Law from the University of Canberra. He is a member of the ICC International Court of Arbitration, the Law Commission of Sri Lanka, the Advisory Commission on Company Law in Sri Lanka, the Ministerial Committee appointed to reform Commercial Arbitration in Sri Lanka, the Ministerial Committee 'Public Enterprise Board', the Council of the University of Colombo, the Board of Studies (Council of Legal Education), the Corporate Governance Committee (CA-SEC), the Board of Studies of the School of Accounting and Business (CA Sri Lanka) and the Legal and Judicial Reforms Project (LJRP).

He is also a UGC Nominee for the Post Graduate Institute of Medicine (PGIM) and a Senate Member of the Aquinas University College. He is a Council Member, Faculty Member and the Course Director of ICLP, is the Vice President of the Business Recovery and Insolvency Practitioners of SL (BRIPASL) and is a Senior Lecturer and Examiner at the University of Colombo.

He is the author of several books on company law and intellectual property law.