By Wealth Trust Securities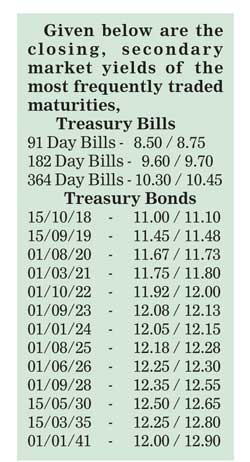 The downward trend of interest rates witnessed at the recent primary Treasury bill auctions continued this week as well, with the weighted averages of the 91 day and 182 day bill maturities decreasing by 07 and 14 basis points respectively to seven weeks lows of 8.80% and 9.75%. However, the weighted average of the 364 day bill remained steady at 10.49%.

Interestingly, the volume accepted at the auction of the 182 day maturity was 135.6% more than the offered amount of Rs. 7.5 billion while the overall volumes accepted at the auction exceeded the total offered amount of Rs. 23 billion by Rs. 0.9 billion.

On the contrary, yields in the secondary bond market, of the liquid maturities of 01.09.23, 01.08.25 and 01.06.26 were seen increasing marginally to intraday highs of 12.10%, 12.18% and 12.25% prior to closing the day at levels 12.08/13, 12.18/28 and 12.25/30 respectively. This was in comparison to the previous day's closing levels of 12.02/10, 12.10/20 and 12.18/28.

Furthermore, the 01.03.21 and 01.10.22 maturities were seen changing hands within the range of 11.75% to 11.80% and 11.95% to 11.98% respectively, while on the shorter end of the curve the 15.09.19 traded at 11.45%.

Meanwhile in money markets, the overnight call money and repo rates averaged 8.23% and 8.09% respectively as the Open Market Operations (OMO) Department of the Central Bank injected an amount of Rs. 45 billion on an overnight basis at a weighted average rate of 7.98%. The net deficit stood at Rs. 58.72 billion.


Rupee continues depreciating trend

In Forex markets, the rupee on active one week forward contracts depreciated further to close the day at Rs.146.95/15 against its previous trading day's closing levels of Rs.146.55/75 on the back of continued importer demand.

The total volume traded during the day of 18th July 2016 was $ 72.00 million.

Some of the forward USD/LKR rates that prevailed in the market were 1 Month - 147.60/80; 3 Months - 149.20/40 and 6 Months - 151.40/60.