DFCC Bank was awarded a Certificate of Merit under the Outstanding Sustainable Project Financing category at the Annual Global Sustainable Finance Conference, held in Karlsruhe in Germany recently.

This award recognises outstanding success in long-term financing of exemplary industrial, commercial or infrastructure projects that have benefited local communities, protected the environment and ensured reliable returns to investors and lenders.

The award was conferred on DFCC for financing Sri Lanka's first grid connected solar power project. This is the third consecutive year that DFCC has been recognised at this event. DFCC won the Most Outstanding Sustainable Project Finance Award in 2013 in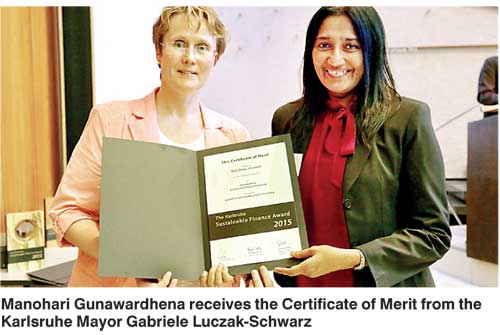 recognition of the bank's invaluable contribution towards developing the Renewable Energy Sector in Sri Lanka and successfully operating the Administrative Unit for the ESD and RERED Projects, and a Certificate of Merit for Outstanding Business Sustainability in 2014 for success in incorporating sustainability in DFCC's corporate strategy and business processes.

European Organisation for Sustainable Development CEO Arshad Rab, upon conferring the Certificate of Merit to the bank, said: "DFCC is an exemplary financial institution as it has applied sustainable practices across the board. We congratulate the management and staff of the bank today on their success in solar power project financing which is yet another example of how DFCC is playing its role in creating a green and more sustainable economy."

Group Corporate Banking and Capital Markets Senior Vice President Manohari Gunawardhena received the award on behalf of DFCC and also made a presentation on making sustainability an integral part of DFCC's business strategy.