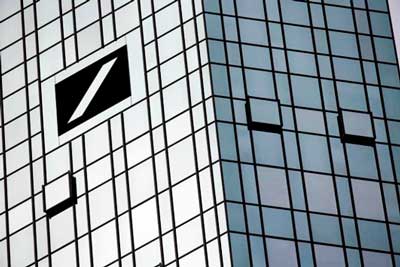 FRANKFURT, (Reuters): Deutsche Bank AG has sold its British insurance business Abbey Life to Phoenix Group Holdings as it sheds non-core assets and reduces its balance sheet in an effort to reassure anxious investors and meet regulators' demands.

Phoenix, Britain's largest owner of life insurance funds closed to new customers, is paying 935 million pounds ($ 1.22 billion) for the unit which manages assets worth 10 billion pounds and has 735,000 policyholders, the companies said.

Although the deal announced on Wednesday will result in a pre-tax loss of some 800 million Euros ($ 895 million) in the first quarter, mainly from writedowns for Deutsche Bank, it will lift the German lender's capital ratio by 10 basis points.

The sale was a rare piece of good news for Deutsche Bank investors and the bank's shares had risen 3.1% by 0742 GMT, recovering from a record low on Tuesday when the stock was hit by continuing concerns about the health of the financial industry in Europe's largest economy.

Chief Executive John Cryan told Germany's Bild that he had not asked for state aid following a report that Deutsche had asked Berlin for help to deal with a $ 14 billion demand from the U.S. Department of Justice.

Regulatory changes and rock bottom interest rates have ramped up pressure on banks to deal with their legacy books, leading many to consider putting them up for sale.

The interest rate cut that followed Britain's vote to leave the European Union has squeezed returns on investments for companies that manage closed life insurers.

Germany's largest bank, which is in the midst of a deep overhaul, is trying to cut its balance sheet dramatically as it seeks to comply with stricter rules demanding lenders hold more capital against any assets.

Deutsche Bank has been working on the sale of Abbey Life, which it had bought for 977 million pounds in 2007, since last year, sources had told Reuters.

Run-off specialist Phoenix said it would raise 735 million pounds via a rights issue and use 250 million pounds from a new bank facility to fund the purchase.

Earlier, French insurer AXA sold its UK investment and pensions business to Phoenix for 375 million pounds, completing a well-flagged exit from a mature life assurance market to focus on faster-growing emerging economies.

In March, the Financial Conduct Authority launched an investigation into Abbey Life's treatment of long-time life insurance customers which could result in compensation payments to policyholders or fines for the British insurer.