By Shehana Dain

CSE Chairman Vajira Gunatilaka yesterday revealed that Real Estate Investment Funds (REITS) are on the cards for the stock exchange in 2016.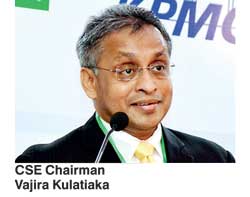 Noting that unanimous sentiments around the country are positive towards real estate investments, he however said that physical purchasing comes at a hefty price tag therefore the second best option lies in a creating a paper market, which will ultimately be in the stock exchange.

"REITS will be equal to unit trusts; the whole idea is, instead of securities in a unit trust, REITS will hold real estate. There will be a management company that will manage the real estate actively. We don't have that expertise right now to trade, buy, sell and develop it. This can become one of the major capital market activities," he said.

There will be two types of REITS, of which one will be rental yields and the other will be development yields.

According to Kulatilaka rental yields will not be feasible in a country like Sri Lanka due to increasing interest rates.

"When interest rates are going up, one place where they will suffer will be real estate. If the interest rate is 5% in the country and rental REITS is 10%, people will flock together and start buying. However here it's not so and people will prefer Government bonds over this. On the other hand development REITS are quite important because they can be sold and will give higher returns."

Local realtors welcomed the new move by the CSE. Speaking on behalf of the industry, Steradian Capital Investments Director Hardy Jamaldeen said: "REITS is such an important component; our capital market is very small and if you really want to give scale in terms of land value and development activity, this is the way to go. We are hopeful that after a year or so it would come in but again another set of legislation should come into play."

Noting that REITS would enable developers to look into and pump capital into niche areas such as industrial warehousing, accommodation for professionals who come into Colombo and affordable apartments, he said that REITS would help unblock capital tied up in buildings.

"After REITS comes, it won't just be a simple case of valuing a land and building; you start valuing land and building and also the income stream which will be very important. This is what we will be pushed to do," he added.

However, he pointed out that in terms of a REIT 70% should be income driven and 30% development, stressing that education and transparency were vital before the product rolls out.