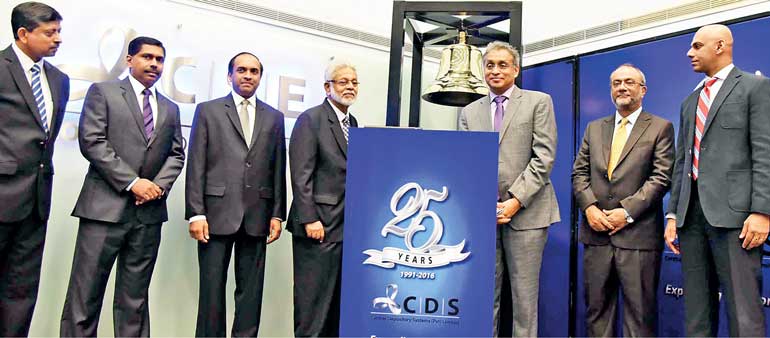 From left: Head of CDS Nalin Fonseka, CSE COO Renuke Wijayawardhane, CSE CEO Rajeeva Bandaranaike, SEC Chairman Thilak Karunaratne, CSE Chairman Vajira Kulatilaka, ACG Chairman Muhammad Hanif, SEC DG Vajira Wijegunawardena at the Bell ringing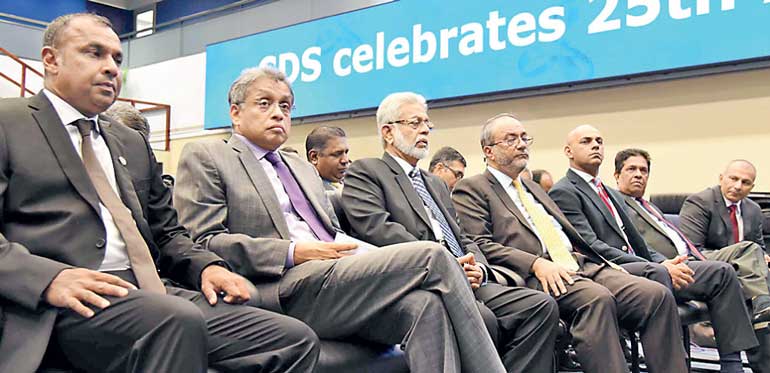 By Charumini de Silva

The Colombo bourse has intensified its thrust towards delivering a full range of commercialised services, maintaining a strong focus on operational efficiency and offering convenience to its stakeholders as key priorities for the depository going forward.

"Today's world is data driven and we are now targeting to use this data for the betterment of the Colombo Stock Exchange (CSE) especially to further commercialise the central depository system (CDS)," CSE Chairman Vajira Kulatilaka said at a ceremony held last Friday (2) to celebrate 25 years of CDS in the capital market.

Central Depository Systems Ltd (CDS), a fully owned subsidiary of the CSE was established in 1991, marking a historic breakthrough in clearing and settlement in Sri Lanka.

The milestone was celebrated at a market opening ceremony organised with the participation of Securities and Exchange Commission (SEC) Chairman Thilak Karunaratne, SEC Director General Vajira Wijegunawardena, Asia-Pacific Central Securities Depository Group (ACG) Chairman Muhammad Hanif, CSE Chairman Vajira Kulatilaka, CSE Directors Ray Abeywardena, Asanga Seneviratne, Aravinda Perera, Jeeva Niriella and the CSE Chief Executive Rajeeva Bandaranaike. CEOs of CSE Member Firms, representatives of Custodian and Settlement Banks, Company Secretaries, Company Registrars, the CSE management, the staff of the CDS and other distinguished guests from the capital market fraternity were also present at the event.

Upon its historic entry to the capital market in 1991, the CDS was tasked to specialise in the settlement of securities, transactions and the safekeeping of securities on behalf of domestic and international investors. The Depository has since embarked upon a number of technical and strategic growth initiatives to build and strengthen its infrastructure, implement world-class systems and provide a safe clearing and settlement environment.

Kulatilaka acknowledged that the CDS was set up through a project by the USAID as a total grant by the US Government, which made Sri Lanka leapfrog with a unique feature in the entire Asian region.

"CDS is a system we can be proud of. Another fact we need to keep in mind with CDS is that we can do a lot of businesses with it not only the share transactions. It is a good way to bring in products and activities which are commercially viable for CSE. I believe that we are well equipped to work towards the betterment of the Sri Lankan capital market going forward," he stressed.

He added the CSE is working closely with the SEC to setup the central counterparty (CCP) system as fast as possible, which would help Sri Lanka leapfrog once again and bring the capital market upto international standards.

Noting that the industries have withstood difficult times in the capital market, Kulatilaka said it was vital for the stakeholders to be proactive to embrace change.

The Chairman of ACG and the CEO of Central Depository Company of Pakistan Muhammad Hanif said the CDS in the last 25 years had proven to be an exemplary institution, not only by maintaining the technological framework for the market, but preserving the accountability and integrity as an institution of significance in Sri Lanka and Asia.

"CDS Sri Lanka has lived more than the expectations with 95% of equity shares and 99% of corporate bonds existing in the electronic form. It has been a model institute for years globally," he added.

Hanif also extended an invitation to CDS Sri Lanka to participate in the ACG Annual General Meeting (AGM) which is scheduled to be held in Teheran, Iran.

SEC Director General Vajira Wijegunawardena acknowledged the CDS for playing a significant role in the smooth functioning of the capital market by reducing risk, limiting costs, protecting the assets of investors and by offering value-added services to stakeholders.

He particularly commended the CDS for stepping out of its scope to play a unique role in post-trade settlement - an area that is traditionally not associated with a depository.

Agreeing with CSE Chairman Wijegunawardena said: "We are going through some difficult times, but of course these are such times that all of us need embrace change and change for the better in order to take the capital market to the next level."

Today, the CDS handles dematerialisation operations, accounts services, corporate action services and clearing and settlement services for its stakeholders – all possible as a result of a transformational journey of constant innovation, stakeholder focus and technical advancement.

Pix by Lasantha Kumara
SEC calls to broad base capital market
The Securities and Exchange Commission (SEC) calls on stakeholders to bring in necessary reforms that are required to increase market participation, broadbase and take Colombo Stock Exchange (CSE) to the next level.

"The lack of participation in the capital market, is something that we as the regulator, the CSE and stakeholders need to work on together in order to take our market to the next level," SEC Director General Vajira Wijegunawardena said.

According to him although there are around 587,000 CDS accounts, only about 13,000 would carryout a transaction yearly, while around 8,000 transact on a weekly basis, which clearly shows the lack of participation in the capital market and he pointed out that it was something that all stakeholders needs to address immediately to broad base the capital market .

"As far as the SEC is concerned we are working on key initiatives along with the CSE to put a sound regulatory framework in place and also to enable the infrastructure. Thereby, when the markets are ready to move out it can be done in a sustainable manner," Wijegunawardena stressed.

Commenting on the regulatory initiatives he said decentralisation in account opening which the SEC is fully supportive of, will be taken up at this month's commission meeting for necessary approvals.