Catering to a growing interest amongst the public in improving skills and knowledge related to the capital market, the Colombo Stock Exchange (CSE) officially launched its online educational portal in partnership with thinkCube Systems Ltd.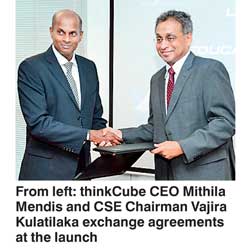 The newly launched portal which delivers content in English, Sinhala and Tamil adds a new dimension to the CSE's investor education initiatives, offering learning material at the click of a button. The online based distribution of information, training and analysis is set to assist the CSE in reaching out to a wider segment of investors and potential market participants, which adds significant scope to the CSE's efforts to increase market engagement among the Sri Lankan public.

Commenting on the launch, CSE Chairman Vajira Kulatilaka stated, "We are pleased to launch the educational portal as a landmark initiative in 2016 and thank thinkCube Systems for driving the endeavour by partnering with us. Facilitating financial literacy and investor education is a key focus at the CSE and we believe that this new online portal will offer the Sri Lankan public a convenient and proactive source of capital market related learning."

He added, "Stock exchanges around the world have embraced digital technology in their efforts to promote financial education and entrepreneurial skills. The online portal is yet another initiative in the CSE's efforts to introduce world class practices to the Sri Lankan capital market."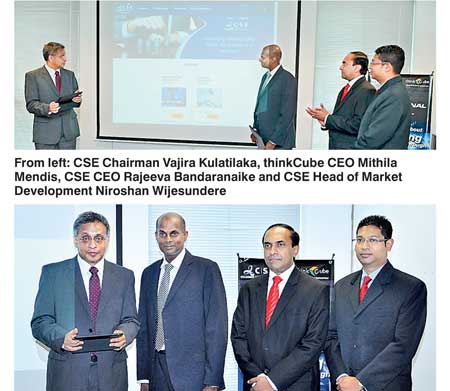 Commenting on the partnering with the CSE, thinkCube CEO Mithila Mendis stated, "We are privileged to partner a prestigious institution such as the Colombo Stock Exchange in an exercise which is visionary and will result in benefits such as market growth through better knowledge in operations and wider access to timely information. thinkCube will continue to support CSE in bringing updated technology, a greater scope of content, training courses and online events."

The CSE will use the educational portal to deliver a range of educational resources including publications, online courses, trading statistics, webinars and videos specially targeting first-time investors. Browsers could also use the portal to stay updated on the CSE's products, services and latest news related to the market.