By Wealth Trust Securities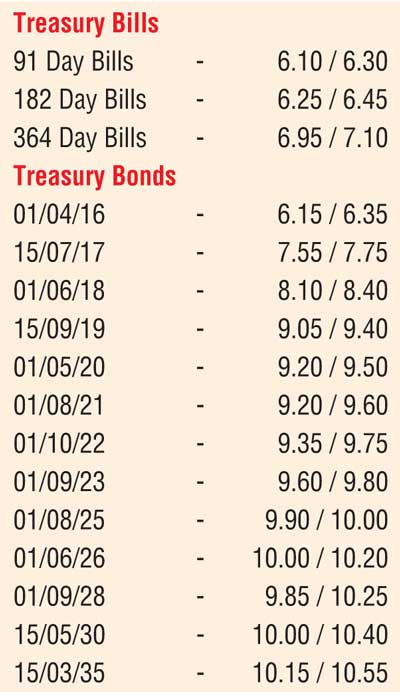 The overall yield curve witnessed a considerable upward shift during the week ending 11 December reversing a downward trend witnessed over the previous week (4 December). This development in the market was mainly attributed to the comments made by the International Monitory Fund (IMF) on monitory policy and an upward tick in weighted averages at the weekly Treasury bill auction according to market sources.

In secondary market bonds, two-way quotes on the liquid maturities were seen increasing to two month highs as very thin volumes were seen changing hands. The liquid maturities of 15.09.2019, 01.05.2020, 01.08.2021, 01.10.2022 and 01.09.2023 were seen hitting highs of 9.05%, 9.10%, 9.30%, 9.45% and 10.00% respectively against its previous weeks closing levels of 8.57/67, 8.70/80, 9.00/15, 9.15/25 and 9.15/30. In addition on the long end of the curve, 2026 and 2028 maturities were seen changing hands within the range of 9.90% to 10.20% and 9.65% to 10.00% respectively.

Meanwhile the surplus liquidity in money market decreased to average Rs. 93.62 billion for the week against its previous week's average of Rs. 131.12 billion. However the overnight call money and Repo rates remained mostly unchanged to average at 6.31% and 5.93% respectively for the week.

Rupee dips marginally during the week

The rupee closed the week marginally lower at Rs. 143.35/50 in comparison to its previous weeks closing levels of Rs. 143.28/35 subsequent to hitting a weekly high of Rs. 143.18. The daily USD/LKR average traded volume for the first four days of the week stood at $ 68.09 million.

Some of the forward dollar rates that prevailed in the market were one month – 144.00/10; three months – 144.65/75 and six months – 145.75/85.