Co-hosted by Financial Times (FT), Citi Foundation and Foundation for Development Cooperation in partnership with Banking With The Poor Network, the Asia Pacific Financial Inclusion Summit will be held from 27 to 29 October at Markati Shangri-la Manila, Philippines under the theme of 'Accelerating Financial Inclusion to Enable Economic Progress'.

The event will be a catalyst for debate, best practice, knowledge exchange and partnership among more than 500 practitioners, policy makers and other stakeholders seeking to achieve significantly greater financial inclusion in the region. The summit expects to create a new platform to reflect the integration of capability, access and other key elements that can deliver impact and scale in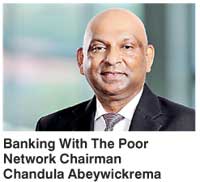 inclusive finance.

Some of the key global and industry leaders will address the summit on some of the most timely issues and challenges relating to financial inclusion. Key discussion sessions will cover: Financial Inclusion – Catalyst for sustainable development and economic transformation, Financial Inclusion in the Digital Era – Transformation in the Market, Regulatory frameworks for Conducive to Financial Inclusion.

Banking With The Poor Network (BWTP) Chairman Chandula Abeywickrema will lead the discussion on 'Scaling Microfinance Institutions for Greater Impact', and he will have in his panel which is a key plenary session, Shameran Abed, Director of Microfinance BRAC Bank Bangladesh, Royston Braganza, CEO, Gramean Capital India, Chandra Shekhar Ghosh Chairman, Bandhan India, Dolores Torres, President/CEO CARD bank Philippines.

The discussion will greatly focus on creating access to affordable and inclusive financial services to over 1.2 billion unbanked people in Asia through the financial and regulatory institutional mechanism taking advantage of the evolving digital era. Discussion will also focus on up-scaling the Asian Micro Finance Institution and creating vital linkages and partnerships with commercial and development banks in Asia to reach greater scale.