Two new Directors appointed to the Board
Young professional and Director Chamindra Gamage has been appointed as the Executive Deputy Chairman at Bimputh Finance Plc.

The Company also announced the appointment former CEO K.P.C. Sudarshana Piyatillake and Pramodya Manjaree K. Gamage as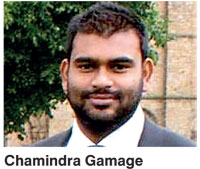 Directors.

Pramodya Gamage holds a BA in Economics from the University of Durham. She also has an MSc in Management and Human Resources from the London School of Economics and is a member of the Chartered Institute of Personnel Development.

She has worked for global insurance and human capital consultancy firm, Willis Towers Watson and has prior experience at leading companies in Sri Lanka such as Daya Group of Companies and MAS Holdings. She currently holds the Managing Director position at Blue Diamonds Jewellery Worldwide Plc.

Bimputh Finance comes under the Daya Group of Companies of Deputy Ministers Daya Gamage and Anoma Gamage Piyatillake has over 25 years of extensive managerial experience in the banking and finance sector.

As a career banker at Indian Overseas Bank, he has had comprehensive exposure to all areas of commercial banking covering imports, exports, foreign exchange dealing, fund management, remittances, HR and administration, operations, customer relations and credit.

He served as the CEO of Bimputh Finance in 2010.

He has also served as a banking and investment consultant to several private sector SMEs in the construction, food and beverage, retail and import export sectors.

He holds professional qualifications from the Institute of Data Processing Management (DPM) London, NIBM Diploma in Computer Systems Design from the National Institute of Business Management, Colombo and part qualifications from the Institute of Bankers of Sri Lanka.

With the latest appointments the Board of Directors of Bimputh Finance Plc D. T. Kingsley Bernard (Non Executive Chairman), C.K. Gamage (Executive Deputy Chairman), A.V.H. Silva (CEO/Executive Director), A. Hemachandra, S.A. Godamunne, S.A.S. Jayasundara, K.P.C.S. Piyatillake and P.M.K. Gamage.