Surplus liquidity hovers near one-year lows

By Wealth Trust Securities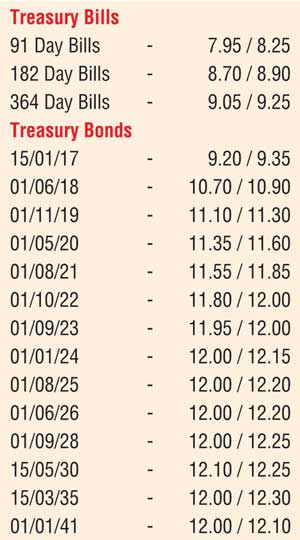 The Central Bank of Sri Lanka's Standard Lending Facility Rate (SLFR) window was accessed for the first time in one month yesterday as surplus liquidity dipped to a net low of Rs. 4.69 billion.

The window rate of 8.00% was seen accessed for an amount of Rs. 4.4 billion while an amount of Rs. 9.09 billion was deposited at its Standard Deposit Facility Rate (SDFR) of 6.50%. This in turn led to overnight repo rates increasing to average 7.39% while call money remained steady to average 7.59%. In secondary bond markets, selling interest on the 1 September 2023 maturity saw its yields hit an intraday high of 12.00% once again, against its Friday's closing of 11.90/95. In addition, two way quotes on the rest of the yield curve was seen increasing as well.
This was ahead of today's weekly Treasury bill auction, where an total amount of Rs. 20 billion will be on offer consisting of Rs. 5 billion on the 91 day, Rs.7 billion on the 182 day and Rs. 8 billion on the 364 day maturities.

At last week's auction, weighted averages increased across the board to 7.68%, 8.49% and 9.00% respectively.

Rupee depreciates further

In forex markets, the rupee on the active one week forward contracts was seen depreciating further yesterday to close the day at Rs.144.15/30 against its previous day's closing of Rs.145.05/25 on the back of importer demand. The total USD/LKR traded volume for 4 March was $ 62.60 million.

Given are some forward USD/LKR rates that prevailed in the market: one month – 145.75/00; three months – 147.25/50; six months – 149.25/50.