Q:What is Candor Money Market Fund (CMMF)?
The Candor Money Market Fund is an Open ended Unit Trust that invests in fixed income securities with maturities up to 12 months. The objective of the Fund is to provide investors with short term returns and liquidity by investing in a portfolio of diversified fixed income securities with tenors of 12 months or less.


Q:What type of investments does the Candor Money Market Fund invest in?
CMMF invests in short-term fixed income securities such as treasury securities, commercial paper, securitized trust certificates and fixed deposits (of banks and finance companies).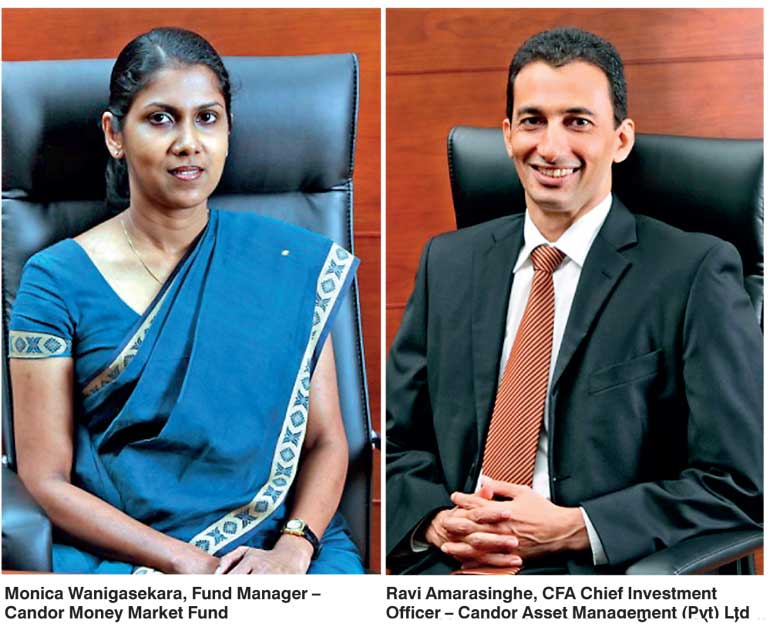 Q:What does commercial paper and securitization mean?
Commercial paper is an unsecured, short-term debt instrument issued by a corporation, typically to meet that corporation's short-term liabilities. Maturities of commercial paper are less than 12 months and the Candor Money Market Fund usually invests even in shorter term tenors, such as 1-6 months. Corporations who issue commercial paper can be finance companies and other companies that require short term funding. Rating of the entity issuing the commercial paper is very important in this case since these are unsecured instruments. At Candor, we only consider commercial paper of investment grade rating and higher.

Securitization is the practice of using the cash flows from specified assets, such as car leases or commercial bank loans as security for an issue of notes. A securitized trust certificate is an asset backed security that the fund invests in for short durations. When purchasing trust certificates, we consider the quality of the pool of cash flows as well as the entity issuing the certificates.


Q:What are the benefits of investing CMMF?
Candor Money Market Fund is a cash management fund. This is an ideal investment vehicle for the purpose of managing your excess cash to earn a competitive return while having the flexibility to redeem your investment quickly. The Fund has the flexibility of a savings account and yet yields much higher than an average savings, call account or overnight REPO.

For companies who pay a higher tax rate of 28% or even 17.5% there is an attractive tax advantage by investing in this fund since the fund only pays tax at 10% (final tax for the fund) and the returns are tax free in the hands of the investor.

Like other mutual funds, money market fund units can be bought or sold at any time. Some investors use money market funds as a "parking place" for cash between investments because money market fund yields are competitive when compared to most savings accounts. For institutions of all kinds—businesses, nonprofit organizations, government agencies, and financial institutions—money market funds are a preferred vehicle for cash management and liquidity.

Moreover, we do not charge a penalty for early redemptions unlike in a bank fixed deposit which may charge you a penalty for redemptions before the maturity date.


Q:Who is managing the Candor Money Market Fund?
The Candor Money Market Fund is managed by a team of experienced fund managers at Candor Asset Management (Pvt) Ltd, which is the management company. Our fund managers have more than two decades of combined experience in managing funds and portfolios.


Q:Is Candor Asset Management a Bank or Finance Company?
We are neither. We are a Securities & Exchange Commission (SEC) regulated, independent Fund Manager who manages the Candor Money Market Fund where the Fund is held under a Trustee agreement with Deutsche Bank, Colombo. As the Trustee of the Fund, Deutsche Bank is responsible for the safekeeping of the assets of the Fund. Deutsche Bank is also the Custodian for the Fund and as such, all investments made by the Fund Manager are held with Deutsche Bank.


Q:Then why is it that the public feels that it is safer to invest with a fund management company owned by a bank?
This is a misconception that the public has, that a Fund Management company should be affiliated to a Bank. The Fund Manger never accepts deposits from clients and the Fund's investments made on behalf of investors are kept separate from the assets of the Fund Management Company. This is the same model used by all unit trust companies, those owned by banks as well as those not owned by banks.

The assets of the Fund are held by a Trustee, Deutsche Bank in this case. Deutsche Bank is a reputed international bank. The Fund Manger only invests the assets according to the mandate of the Fund, in order to provide a good return for the unit holders. The Fund Manager's responsibility is to study the fixed income market and the underlying companies that issue various instruments such as bank deposits, commercial papers, trust certificates and invest in the best companies at good rates.

What the investor has to be concerned about is where the Fund Manager invests the monies- in which types of instruments and in which entities. The Fund Managers of Candor Asset Management monitor the ratings of the instruments and companies that the CMMF invests in and reallocate their investments if a company, bank, or instrument is downgraded.


Q:What is the safety that investors can get by investing in a money market fund?
As the name of the product indicates, a unit trust is defined by a "Trust" framework. This legally installs an independent trustee who holds the investments. The trustee safeguards the interest of all unit holders. Our trustee is Deutsche Bank, which is fundamentally a strong international bank. Additionally, unit trusts are regulated by the Securities and Exchange Commission of Sri Lanka. The SEC, Trustee (Deutsche Bank) and the Fund Management Company ensure that unit trusts funds as well as the Fund Management company do not violate investment regulations.


Q:How does CMMF work?
The pool of investor contributions is divided into equal units where each unit contains the same proportion of assets in the fund. Investors then share in the Fund's income and expenses. Units have a price called a Net Asset Value (NAV). Each contribution remitted to the unit trust, via its Trustee, is used to purchase an equivalent number of units and each unit represents an equal fraction of the total value of the overall unit trust portfolio. This unit is very transparent as it has a daily price which is published in a national newspaper and on the website of Candor Asset Management.


Q:Why is CMMF special when compared with other money markets funds in Sri Lanka?
It is special because of the flexibility of redemptions, flexible top ups, dedicated relationship management and because the CMMF has consistently stayed within the top 5 Funds out of 18 Funds in the market since its launch in terms of returns.


Q:How can I realize my unit trust profits?
The unit holder will earn a profit at the time of redeeming his/her units. Furthermore, the unit holder will receive a dividend twice a year.


Q:How do I know how much units I own and how do I stay updated on my investment / returns?
You will receive a statement of your unit holding in the Candor Money Market Fund every quarter and fund accounts twice a year. If you require more frequent statements such as monthly statements, you can request for such statements from us in addition to your return numbers.