By Wealth Trust Securities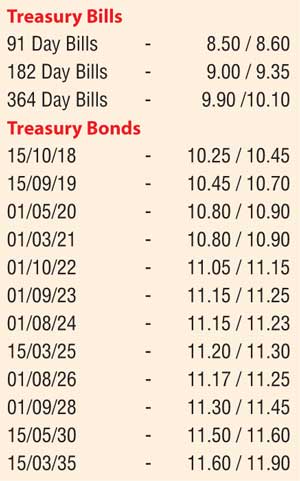 Secondary market bond yields continued their downward trend, reflecting a parallel shift downwards of the overall yield curve for a second consecutive week, with considerable buying pressure from both foreign and local investors.

Most of the activity was witnessed on the liquid maturities of 01.03.21, 01.10.22, 01.09.23, 01.08.24, 01.08.26 and 15.05.30 within weekly highs of 11.15%, 11.27%, 11.35% each, 11.40%, 11.65% and lows of 10.70%, 11.00%, 11.05%, 10.95%, 11.00% and 11.44%.

Furthermore, moderate volumes of the 15.10.18 and two 2025 maturities (i.e. 15.03.25 and 01.08.25) were seen changing hands within the range of 10.70% to 10.35% and 11.45% to 11.15% respectively. However, profit taking at these levels curtailed any further downward movement with the market closing marginally higher.

The downward trend was supported by the primary auction results, where the weighted averages at the weekly bill auction decreased across the boards by 16, 30 and 27 basis points respectively of the 91 day, 182 day and 364 day maturities and by 115, 128 and 146 basis points respectively of the 01.03.21, 01.08.24 and 01.08.26 maturities at the primary bond auction. Furthermore, foreign buying of Rupee bonds continued for an eight successive week with an inflow of Rs. 4.1 billion for the week ending 28 September 2016 to a total value of Rs. 314 billion against its low of Rs. 220 billion recorded on 23rd March 2016. Meanwhile, buying pressure in the secondary bill market resulted in yields around the 364 day maturity declining to around 10.00%.

Inflation for the month of September reflected a decrease for the third consecutive month on the point to point to 3.9%.

In money markets, the overnight Repo rate decreased during the week to average 8.67% against its previous week's level of 8.84% as the Open Market Operations (OMO) Department of the Central Bank of Sri Lanka continuously infused liquidity by way of overnight Reverse repo auctions at weighted averages ranging from 8.48% and 8.49%. The net liquidity shortfall in the system decreased to Rs.25.23 billion in average against its previous week's net shortfall average of Rs.37.33 billion.

Rupee depreciates for a third consecutive week

The rupee on spot next contracts depreciated for a third consecutive week to close at Rs.146.85/00 against its previous weeks closing level of Rs.146.35/40 on the back of continued seasonal importer demand while spot contracts closed at Rs.146.85/95. The daily USD/LKR average traded volume for the first four days of the week stood at $ 120.82 million.

Some of forward dollar rates that prevailed in the market were 1 Month - 147.80/00; 3 Months - 149.35/50 and 6 Months - 151.85/00.