Reuters: Shares were little changed on Monday as investors awaited clarity on the political front and the timing of a Parliamentary election as concerns over political stability weighed on sentiment, stockbrokers said.

The main stock index ended down 0.05% at 7,284.76.

"There was some profit-taking in those counters which went up last week," said Dimantha Mathew, Research Manager at First Capital Equities. "Turnover is low as investors are awaiting the announcement of the Parliamentary election."

Analysts said a new stable Government after the Parliament election with some strong economic policy measures would boost confidence.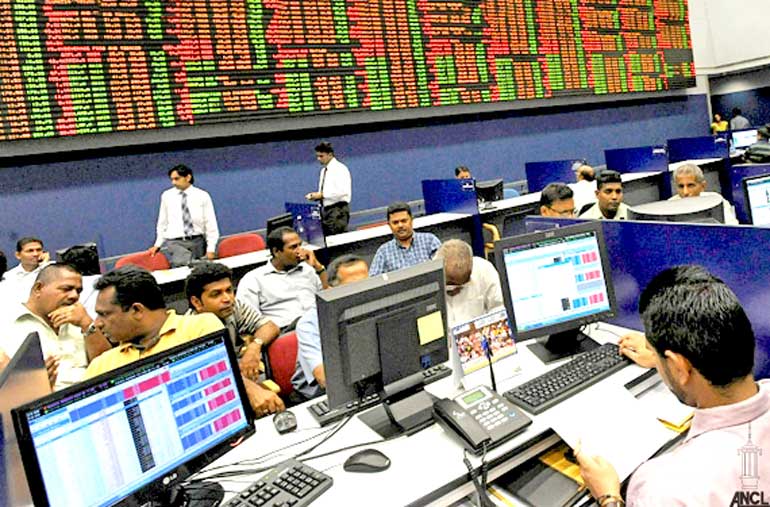 Turnover was Rs. 763.3 million ($5.71 million), below this year's daily average of about Rs. 1.13 billion.

Foreign investors were net buyers on Monday, ending three straight sessions of outflows. They bought Rs. 77.5 million worth of shares on Monday, extending the year-to-date net foreign inflow to Rs. 5.94 billion.

Shares in biggest listed lender Commercial Bank of Ceylon Plc fell 2.02%, while shares in Distillers Sri Lanka Plc fell 3.11%.

Analysts expect banking and financial shares to gain due to rising private sector credit growth, which grew 13.9% on-year in March from 12.6% in February.

Political uncertainty due to the Prime Minister Ranil Wickremesinghe-led UNP not having a Parliament majority has been a drag on the market, though the trend reversed after the Central Bank cut key monetary policy rates to record lows on 15 April.

The index has gained 5.6% since the rate cut.
Activity dries up in secondary Bond markets as yields edge up marginally
By Wealth Trust Securities

The secondary Bond market was seen shifting to a bearish sentiment yesterday as yields edged up marginally in thin trade.

A limited amount of activity was seen on the 1 June 2018, 1 August 2021 and 1 September 2023 maturities as its yields were seen hitting intraday highs of 7.72%, 8.50% and 8.80% respectively while two-way quotes on all other maturities were seen increasing as well.

In secondary Bill markets, selling interest on November 2015 and April 2016 durations saw its yields increase to 6.15/25 and 6.27/33 respectively.

Meanwhile in money market, overnight call money and repo rates remained steady to average at 6.11% and 5.77% respectively as surplus liquidity stood at Rs. 114.98 b yesterday.
Rupee dips marginally

The rupee on active three month forward contracts dipped marginally to close the day at Rs. 136.50/60 yesterday against its previous day's closing levels of Rs. 136.45/55 on the back of importer demand. However the rate on spot contracts remained at Rs. 133.70. The total USD/LKR traded volume for the previous day (22 May) stood at $ 8.25 million.

The six month forward dollar rates that prevailed in the market was 138.00/20.
Rupee forwards steady as CB prevents fall
Reuters: Rupee forwards ended steady on Monday as the Central Bank prevented any fall in the currency against the dollar via moral suasion despite downward pressures, having already allowed some depreciation earlier during the month.

Actively traded three-month forwards ended steady at 136.55/70 per dollar.

"There is no offer in the market and nobody is chasing dollar purchase because of the central bank's moral suasion," a currency dealer said on condition of anonymity.

"All the forwards are fixed by the central bank and if anybody wants dollars, they have to buy it at the level the Central Bank decides."

Two-month forwards were unchanged at 135.50/80 per dollar and the one-month was steady at 134.70/90.

Central Bank officials were not available for comment.

Dealers said the currency would be under pressure until either dollar inflows pick up or interest rates rise.

However, Finance Minister Ravi Karunanayake said on Monday there was no pressure on the rupee and foreign currency reserves had risen to $7.8 billion as of Monday.

The reserves were estimated to have increased to $7.4 billion by 30 April, the Central Bank has said.

In its monetary policy for May, the Central Bank, while holding policy rates at record lows, said the rupee had depreciated against the dollar by around 2% so far this year.

The Central Bank has already allowed the spot rupee to fall 0.6%, or by 80 cents, to 133.70 since 30 April to account for broad gains in the greenback and rising credit demand in a low interest rate environment.

However, dealers say the depreciation was not adequate and the market had adjusted to trade forwards after the Central Bank was seen defending the currency.