By Wealth Trust Securities

The yields for secondary market bonds continued to drop yesterday on continued buying interest driven by the increase in market surplus liquidity to a five month high of Rs 122.45 billion. Buying across the yield curve saw yields on the liquid maturities of the two 2019's (i.e. 01.07.19 and 15.09.19), the 01.05.20, the two 2021's (i.e. 01.05.21 and 01.08.21), the 01.10.22 and the 01.09.23 hit intraday lows of 8.45% each, 8.50%, 8.65% each, 8.88% and 8.90% respectively against its previous day's closing levels of 8.70/80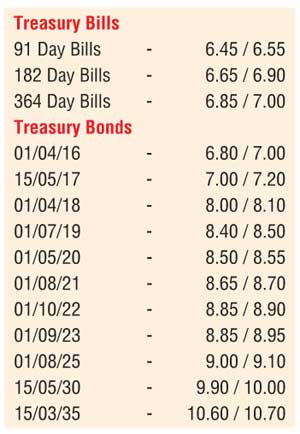 each, 8.85/90, 8.95/05 each, 9.10/20 and 9.15/20. In addition, on the long end of the curve the 15.03.2035 maturity was seen changing hands within the range of 10.65% to 10.75% during the day.

In money markets, overnight call money and repo rates increased marginally to average 6.35% and 6.15% respectively despite surplus liquidity increasing to a five month high of Rs.122.45 billion yesterday. Liquidity is expected to further increase today following the realization of the US $ 1.5 billion sovereign dollar bond issue. The Rupee remains mostly unchanged. The USD/LKR rate on spot contracts remained mostly unchanged to close the day at Rs.141.00/05 yesterday as markets were at equilibrium. The total USD/LKR traded volume for 30 October was US $ 83.77 million.

Some of the forward USD/LKR rates that prevailed in the market were 1 Month - 141.45/50; 3 Months - 142.40/60 and 6 Months - 143.85/10.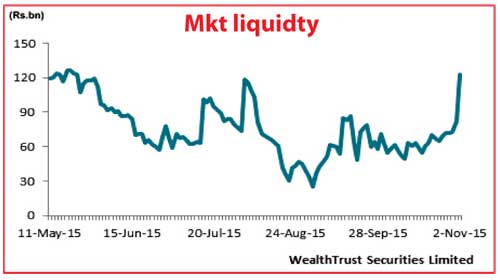 Rupee eases slightly in dull trade
Reuters: The Sri Lankan rupee edged down in thin trade on Monday as importer demand for the dollar surpassed greenback sales by exporters and banks, dealers said.

Trading is likely to be lacklustre until the government provides clarity on economic policy, they said.

Prime Minister Ranil Wickremesinghe is expected to announce the country's medium-term economic policy framework on Thursday, while the 2016 budget announcement is scheduled for 20 November. The rupee ended at 141.05/10 per dollar, lower from Friday's close of 141.00/05.

"We do not see a significant gain in the currency after last week's $1.5 billion sovereign bond issue," a currency dealer said on condition of anonymity.

"The market is quiet and will remain dull until investors see policy clarity. There is uncertainty over the tax regime that is going to come in the next year in the budget."

The local currency eased on Wednesday due to panic selling by exporters on fears of a rise in the currency after a sovereign bond sale.

Sri Lanka borrowed $1.5 billion via a 10-year sovereign bond sale on Oct. 27 at a 6.85% yield, down from an initial guidance of about 7%.

Commercial banks parked Rs. 122.45 billion ($869.06 million) of surplus liquidity on Monday, using the central bank's deposit facility at 6%, official data showed.

The central bank also injected a net Rs. 43.8 billion on Monday, data showed, which currency dealers attributed to the purchase of government securities.