By Wealth Trust Securities

The secondary bond market continued to remain bullish yesterday as buying interest on the long end of the curve saw yields dip considerably yesterday ahead of today's weekly Treasury bill auction.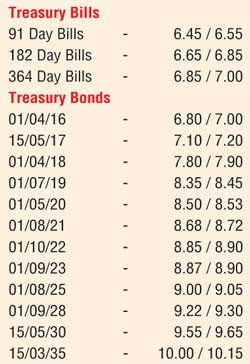 The maturities of 15 March 2025, 1 September 2028, 15 May 2030 and 15 March 2035 saw its yields dip to intraday lows of 9.00%, 9.25%, 9.65% and 10.10% respectively against its days opening highs of 9.15%, 9.60%, 9.85% and 10.50%.

In addition on the belly end of the yield curve the two 2019s (i.e. 1 July 2019 and 15 August 2019) the 1 May 2020, the two 2021s (i.e. 1 May 2021 and 1 August 2021), the 1 October 2022 and the 1 September 2023 maturities were seen changing hands within the range of 8.40% to 8.47% each, 8.50% to 8.55%, 8.67% to 8.75% each, 8.85% to 8.90% and 8.80% to 8.90% respectively while on the short end 2017 and 2018 maturities were seen changing hands within the range of 7.35% to 7.50% and 7.80% to 8.00% as well. Today's weekly Treasury bill auction, will see a total amount of Rs. 17 billion on offer consisting of Rs.2 b on the 91 day, Rs. 5 b on the 182 day and Rs.10 b on the 364 day maturities respectively. At last week's auction, weighted averages on all three maturities decreased across the board to 6.61%, 6.99% and 7.06% respectively.

In money markets yesterday, overnight call money and repo rates decreased marginally to average 6.32% and 6.09% respectively as surplus liquidity remained high of Rs. 121.37 billion.


Rupee dips once again

Meanwhile in Forex markets yesterday, importer demand saw the USD/LKR rate on spot contracts depreciate once again to close the day at Rs.141.08/15 against its previous day's closing of Rs. 141.00/05. The total USD/LKR traded volume for 2 November was $ 59.35 million.

Some of the forward USD/LKR rates that prevailed in the market were one month – 141.55/60; three months – 142.45/60 and six months – 143.90/10.
---
Bourse at near-4-month low; policy statement awaited
(Reuters) - Sri Lankan stocks ended at its lowest in nearly four months on Tuesday while turnover slumped as investors awaited a key government policy statement later this week and also the budget for direction.

The main stock index .CSE ended down 0.41% at 7,000.41, its lowest close since July 13. The index has fallen for four straight session through Tuesday.

The day's turnover was 391.2 million rupees ($2.77 million), the lowest since July. 14 and less than half this year's daily average of 1.1 billion rupees.

Prime Minister Ranil Wickremesinghe is expected to announce the country's medium-term economic policy framework on Nov. 5, outlining the government's economic priorities ahead of the 2016 budget scheduled for Nov. 20.

The index "was on an uptrend for the first hour of trading followed by continued, albeit volatile, downward momentum to bring down the index below 7,000 mark prior to losing 29 points to close at 7,000," First Capital Equities (Pvt) Ltd said in a note to investors.

Analysts said investors are waiting for the budget and the prime minister's statement for cues.

Shares in Asian Hotels and Properties Plc AHPL.CM fell 3.94% while Carson Cumberbatch Plc CARS.CM fell 0.72%.

Foreign investors, who have been net sellers of 3.66 billion rupees worth of equities so far this year, bought a net 14.88 million rupees worth shares on Tuesday.
---
Rupee eases on importer dollar demand
(Reuters) - The Sri Lankan rupee ended a tad weaker for a fourth straight session on Tuesday as importer demand for the dollar surpassed mild greenback sales by exporters and banks, dealers said.

The rupee ended at 141.15/20 per dollar, near its record low of 141.40 hit on Sept. 28, and down from Monday's close of 141.05/10.

Trading is likely to be lackluster until the government provides clarity on economic policy, dealers said.

Prime Minister Ranil Wickremesinghe is expected to announce the country's medium-term economic policy framework on Thursday, while the 2016 budget announcement is scheduled for 20 November.

"Exporters are reluctant to sell as they expect the rupee to weaken further," a currency dealer said, on condition of anonymity.

Dealers said they have not seen a significant gain in the currency after last week's $1.5 billion sovereign bond issue and it is expected to be dull until investors see policy clarity. Dealers expected the inflow from the bond proceeds later this week.

Sri Lanka borrowed $1.5 billion via a 10-year sovereign bond sale on Oct. 27 at a 6.85% yield, down from an initial guidance of about 7%. (Full Story)

Commercial banks parked 121.38 billion rupees ($860.85 million) of surplus liquidity on Tuesday, using the central bank's deposit facility at 6%, official data showed.