By Wealth Trust Securities

The secondary market bond yields were seen closing the day broadly steady yesterday as investor sentiment remained positive despite the announcement of four Treasury bond auctions on back of the IMF Board level approval for a $ 1.50 billion EFF (Extended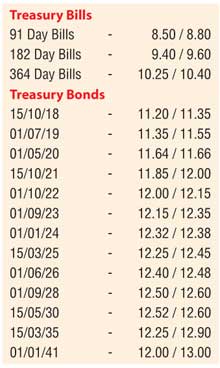 Fund Facility) to Sri Lanka.

Activity moderated considerably during the day with the liquid maturities of 01.05.20, 15.10.21, 01.01.24 and 01.06.26 changing hands within the range of 11.64% to 11.66%, 11.85% to 11.90%, 12.25% to 12.35% and 12.33% to 12.42% respectively.

Meanwhile in money markets, the overnight call money and repo rates averaged 8.17% and 8.03% respectively as the Open Market Operations (OMO) Department of the Central Bank injected an amount of Rs.10 billion on an overnight basis at a weighted average rate of 8.00%.
Rupee appreciates to one-month high
The rupee rate on the active spot next contract was seen appreciating to a one-month high of Rs.146.00/10 yesterday against its previous day's closing levels of Rs.147.10/30 on back of the IMF news. The total USD/LKR traded volume for 3 June was $ 45.75 million.

Given are some forward USD/LKR rates that prevailed in the market: one month – 146.90/95; three months – 148.45/60; six months – 150.60/75.