By Wealth Trust Securities

Activity in secondary market bonds moderated yesterday as yields was seen closing the day steady ahead of Today's Treasury bond auctions. A limited amount of activity was witnessed on the two 2019 maturities (i.e. 1 July 2019 and 15 September 2019) within the range of 8.75% to 8.85%, the 1 May 2020 within 8.95% to 9.05% and on the long end of the curve, the 15 March 2035 within the range of 10.82% to 10.87% yesterday. In secondary market bills, the 182 day bill was seen changing hands within the range of 6.85% to 6.90% as well.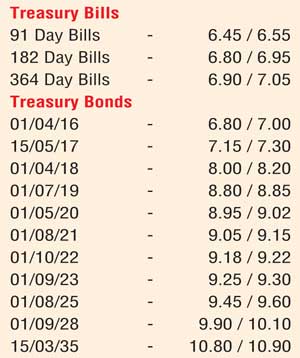 Today's bond auctions, the second round of auctions for the week will see Rs 3 billion each on offer on a 4.06 year maturity of 1 May 2020, a 8.02 year maturity of 1 January 2024 and a 14.06 year maturity of 15 May 2030.

The previously concluded auctions on these maturities saw the 1 May 2020 and the 15 May 2030 record weighted averages of 9.58% and 10.96% respectively while all bids for the 1 January 2024 were rejected.

This was ahead of inflation numbers due today for the month of October. At its September release, the point to point was seen recording a historical low of a negative 0.30% while its annualised average dipped to 0.70% as well.

In money markets, surplus liquidity remained high at Rs.72.69 billion as overnight call money and repo rates remained steady to average 6.35% and 6.09% respectively.

Rupee loses ground once again

Meanwhile in Forex markets yesterday, the USD/LKR rate depreciated once again to close the day Rs. 140.95/00 against previous day's closing of Rs 140.85/90 on back of importer demand. The total USD/LKR traded volume for 28 October was $ 104.18 million.

Given are some forward USD/LKR rates that prevailed in the market: one month – 141.45/55; three months – 142.45/55; six months – 143.85/00.