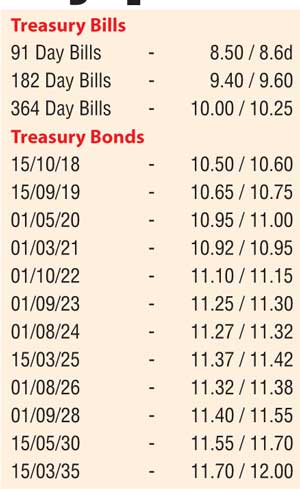 By Wealth Trust Securities

The secondary bond market remained bullish yesterday as yields continued to dip for a third consecutive day ahead of the monetary policy announcement due today at 7.30 a.m.

The Central Bank of Sri Lanka kept its policy rates steady at last month's policy meeting following a 50 basis points increase at its July meeting.

Buying interest mainly on the short end to the belly end of the yield curve saw yields on the liquid maturities of 15.10.18, 15.09.19, 01.03.21, 01.10,22 and 01.09.23 dip to intraday lows of 10.55%, 10.70%, 10.92%, 11.10% and 11.25% respectively against opening highs of 10.60%, 10.75%, 11.00%, 11.21% and 11.33%. In addition, the 01.08.24, the two 2025's (15.03.25 & 01.08.25) and the 01.08.26 maturities were seen changing hands within the range of 11.30% to 11.32%, 11.40% to 11.42% and 11.34% to 11.40% respectively as well.

In the secondary bill market, durations centering the 182 day and 364 day maturities were quoted at levels of 9.40/60 and 10.00/25 respectively. This was ahead of today's weekly bill auction, where a total amount of Rs. 21 billion will be on offer consisting of Rs. 6 billion on the 91 day, Rs. 7 billion on the 182 day and Rs. 8 billion on the 364 day maturities. At last week's auction, the weighted averages decreased across all three maturities to 8.71%, 9.69% and 10.38% respectively. Given below are the closing, secondary market yields for the most frequently traded maturities.

Meanwhile in money markets, overnight call money and repo rates remained steady at 8.42% and 8.63% respectively as the Open Market Operations (OMO) department of Central Bank injected an amount of Rs.20.00 billion yesterday at a weighted average of 8.49% by way of an overnight reverse repo auction. The net market deficit dipped to Rs. 15.11 billion.

Rupee dips further

Meanwhile, in Forex markets, the active spot next contract depreciated further yesterday to close the day at Rs. 146.48/55 against its previous day's closing level of Rs. 146.40/45 while spot contracts closed at Rs.146.40/55 on the back of continued importer demand. The total USD/LKR traded volume for 26 September 2016 was $ 140.50 million. Given below are some forward USD/LKR rates that prevailed in the market.
Rupee ends lower on importer dollar demand
Reuters - The Sri Lankan rupee ended weaker for a second straight session on Tuesday as seasonal demand for dollar from importers outpaced greenback sales by exporters and banks, dealers said.

The spot rupee ended at 146.45/50 per dollar, compared with Monday's close of 146.35/45.

The spot-next forwards ended at 146.48/58 compared to the previous close of 146.38/48, and edged down from Friday's close of 146.30/40.

"There were little remittances and foreign buying into government securities. These inflows were not enough to meet the importer dollar demand," a currency dealer said, asking not to be named.

The spot rupee is usually managed by the central bank and market participants use the forward market levels for guidance on the currency.

Sri Lanka's central bank is expected to keep its key interest rates steady on Wednesday, after cutting three times since December to fend off pressure on the fragile rupee and curb accelerating credit growth that has pushed up inflation.

The central bank is also under pressure from the International Monetary Fund (IMF) to continue to rebuild international reserves and maintain exchange rate flexibility to further develop the foreign exchange market.