SLDB auction records impressive outcome
Yields curve witnesses a parallel shift downwards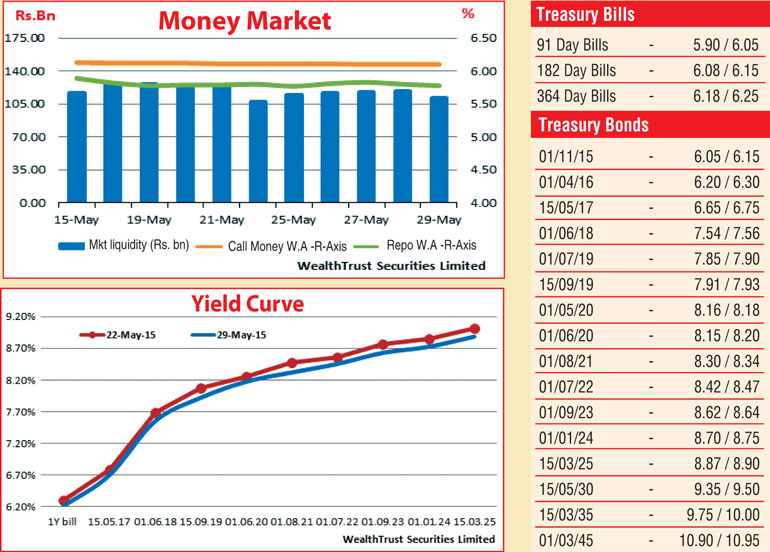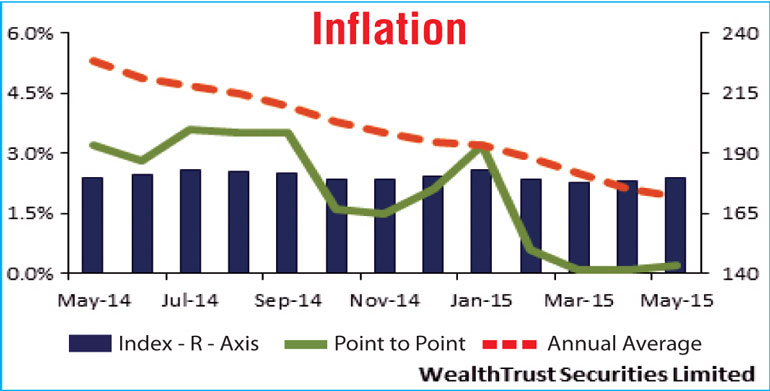 By Wealth Trust Securities

The sentiment and momentum of the secondary bond markets turned bullish towards the latter part of the week ending 29 May with the successful issue of a $ 650 million, 10 year sovereign dollar bond.


The Central Bank of Sri Lanka (CBSL) on 29 May launched and priced a $ 650 million 10-year international sovereign bond at a yield of 6.125% per annum on behalf of the Democratic Socialist Republic of Sri Lanka.


Furthermore, the CBSL also successfully issued $ 329 in Sri Lanka Development Bonds, bringing the total dollar borrowing volume to $ 988 during the week. The bullish sentiment was further ignited by the outcome of Inflation for the month of May, which was 0.2% on point to point and the annualized average inflation continuing to decline to 1.90%.


This news coupled with the positive outcome of the primary Bill and Bond auctions during the week resulted in considerable buying interest in the secondary Bond market. Activity centered round the liquid maturities of 1 June 2018, 1 July 2019, 15 September 2019, 1 May 2020, 1 August 2021, 1 July 2022, 1 September 2023 and 15 March 2025 as their respective yields hit weekly lows of 7.48%, 7.85%, 7.87%, 8.16%, 8.25%, 8.43%, 8.55% and 8.88%.


In addition, a limited amount of activity was also witnessed consisting of the 15 year maturity of 15 March 2030, the 20-year maturity of 15 March 2035 and the 30 year maturity of 1 March 2045 within the yield ranges of 9.40% to 9.50%, 9.90% to 10.00% and 10.95% to 11.05%. This resulted in the overall yield curve reflecting a parallel shift downwards when compared with the previous week.


Meanwhile in money markets, Overnight call money and repo rates remained mostly unchanged to average 6.11% and 5.80% for the week as average surplus liquidity in the system stood at Rs. 116.13 billion.

Rupee appreciates towards latter part of the week

The rupee on active three months contracts appreciated towards the later part of the week to close the week at Rs. 137.70/80 against its weekly low of Rs. 138.20/50 on the back of Sri Lankan dollar denominated sovereign bond issue.

The daily average USD/LKR traded volume for the first four trading days of the week stood at $ 58.51 million.