Parallel shift down on the belly end to the long end of the yield curve
Foreign outflow in rupee bonds for the first time in five weeks
By Wealth Trust Securities
The secondary bond market turned very bullish on Friday 29 February as yields were seen decreasing, reversing an upward trend during the rest of the week, following the announcement of a staff level agreement between Sri Lanka and the International Monitory Fund (IMF) for an Extended Fund Facility (EFF) to the tune of $ 1.50 billion. The EFF is expected to be followed with a further $ 650 million in budgetary support from the World Bank and the Asian Development Bank.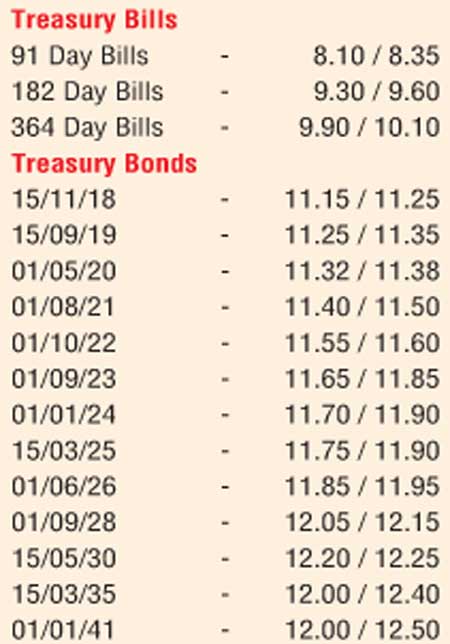 Considerable buying interest across the yield curve saw yields dip, with the 2018 maturities and the 01.05.2020 maturity on the short end of the curve hitting weekly lows of 11.00% and 11.30% respectively against its highs of 11.25% and 11.75%. On the belly end of the curve, the 01.10.2022 and 01.06.2026 maturities dipped to weekly lows of 11.50% and 11.85% respectively against its highs of 11.90% and 12.29%, while on the long end the 01.09.2028 and 15.05.2030 dipped to lows of 12.10% and 12.25% respectively against highs of 12.40% and 12.62%.



This translated to a shift downwards of the yield curve, mainly covering the belly end to the long end. This was despite inflation for the month of April increasing to 3.1% and 1.3% respectively on its point to point and annual average against its previous month of 2.0% and 1.1% and the foreign holding in rupee bonds recording an outflow for the first time in five weeks to the tune of Rs. 7.80 billion for the week ending 27 April, while the overall figure stood at an inflow of Rs. 2.60 billion for the month of April.

Meanwhile in money markets, overnight call money and repo rates decreased marginally to average 8.13% and 8.03% for the week ending 29 April as the average liquidity stood at a net surplus of Rs. 1.96 billion against its previous weeks net deficit of Rs. 25.34 billion.

Rupee closes the week stronger
The rupee on the spot next contract closed the week higher at Rs. 146.10/40 in comparison to its previous weeks closing levels of Rs. 146.30/70 on back of the IMF deal. The daily USD/LKR average traded volume for the first four days of the week stood at $ 44.59 million.

Some of the forward dollar rates that prevailed in the market were one month – 147.00/30, three months – 148.70/00 and six months – 151.10/30.